How Much Does It Cost To Move To London?
Thank you. You will hear from us soon.
Wait!
an agent is calling you now from
+1 (800) 680-6439
Please pick up your phone to be connected with an agent to give you a personalized quote based on your move details.
Interested in moving to London? First of all, great choice! London is one of the world's best cities and a truly unique place to live. However, there are a lot of important things you need to know before making your move.
I've written this guide to try to clarify the process by addressing the most important issues you'll likely face when moving here. If you find that there's something I haven't covered or would like some clarification, just ask in the comments section at the bottom of the page.
First, if you're not a UK or EU citizen, then make sure you get your visa sorted before you leave. A tourist visa does not give you the right to live or work in the UK. If you think you need a visa, please read the following section.
Otherwise, skip to one of the other sections: Where to Live, How to Find a Place to Live, How to Find Work, How to Set Up a Bank Account, Transportation in London, Living in London FAQs.
Visas & Living in London as a Non-UK/Non-EU National
There is lots of information about working abroad, but if you're coming to the UK to work and you don't have a UK or EU passport, you're most likely going to need a work visa. Students, on the other hand, only need a student visa.
My best piece of advice for anything to do with immigration is to go straight to the source: the GOV.UK website will tell you in plain English what type of visa you'll need and the requirements that go along with it.
While Americans, Canadians, Australians, New Zealanders and nationals from certain other countries can usually enter the UK visa-free as tourists, this does not give you the right to work. If you're caught working without the correct visa, you'll likely be removed from the country and you could barred from re-entering the UK for up to 10 years.
If you fail to get the correct paperwork, you are breaking the law and you should expect consequences if you're caught.
Other important websites:
You can find more about visa fees here:
Or apply for one here:
https://www.gov.uk/apply-uk-visa
Life in London as a Non-UK National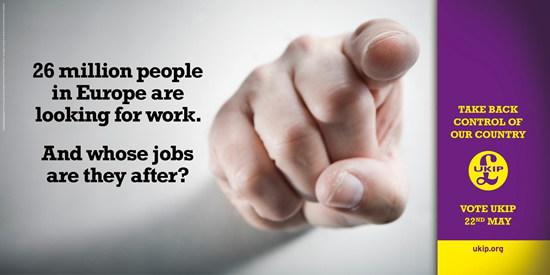 In recent years, the UK has made it more difficult for individuals from outside the EU to immigrate to the UK, and public attitudes towards immigration and immigrants in general have become increasingly negative. This can be seen in the growing popularity of the United Kingdom Independence Party (UKIP) and fringe groups such as the English Defence League (EDL) and British National Party (BNP).
Even the ruling Conservative Party has pledged "to bring annual net migration down to the tens of thousands – rather than the hundreds of thousands we saw under Labour." Thus, coming to work in the UK is likely to become even more difficult in the years to come.
Nevertheless, public attitudes towards immigrants/foreigners are on the whole vastly more positive in London. This might have something to do with the fact that over 1/3rd of Londoners were born outside the UK.
As a white Canadian male (who also has British citizenship), I get asked where I'm from on a fairly regular basis. I also feel as though I occasionally get mistaken for a tourist when out in Central London.
Though I've never had anyone complain to my face about me being an immigrant, I have been involved in a couple of conversations where people complain about immigrants/immigration/foreigners in general. When I've pointed out to them that I'm also a foreigner, they generally say something along the lines of 'You're OK, it's people from other places/people who don't work that are the issue.'
Still, in my experience, this is an extremely rare conversation to have and it's one that you could have anywhere. Most people I meet are more interested in complaining about the weather, talking about where they live, moaning about housing prices, or any of the million-and-one other things that people talk and complain about here that have nothing to do with immigration.
Basically, if you come to London from abroad to work, expect: to be asked about your home country a lot, to be teased occasionally about your vocabulary/pronunciation of certain words, to meet tons of amazing people, to have loads of amazing experiences, and to pay more for accommodation than you ever thought possible.
This brings me to the next section:
Where to Live in London?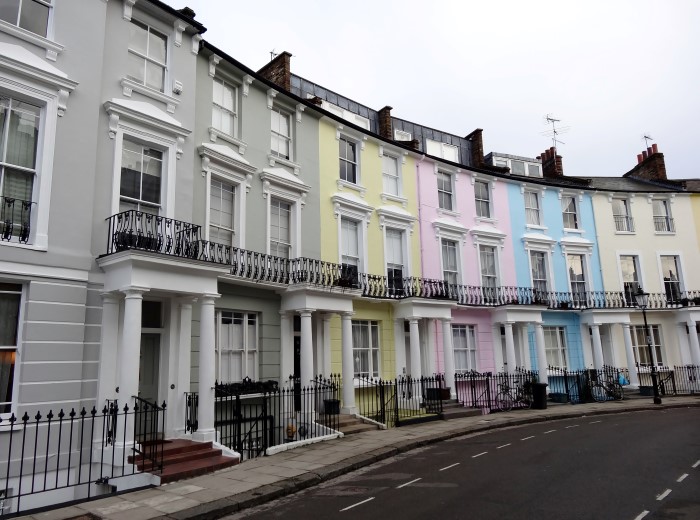 Once you're in London, one of the first things you'll need to decide is where to live. You can either try to rent a place before moving to London or try to find a place once your feet are on the ground. If you can stand some uncertainty, it's probably better to pick a place once you're actually in London so that you can get a feel for different areas.
I would strongly advise against buying a place until you have a good feel for an area, as buying and selling property is both expensive and time consuming and it's worth getting right the first time.
How to Think About London as a City
The classic way to think about London is either North vs South or East vs West. Generally speaking, West and North London are seen as more desirable areas than East or South London. However, in my personal opinion, this way of thinking about London does little to capture the reality on the ground. There are plenty of places in the North or West that I would consider less desirable than places in the South and East.
In reality, London is a collection of neighbourhoods and villages stitched together by buses, trains, trams, and of course, the Underground. So instead of trying to you give one overarching way of thinking about London, here are some general rules of thumb (all of which have exceptions, of course):
Prices to rent and to buy generally decline the further out of Central London you go. Zone 1 is now almost exclusively the realm of the extremely wealthy unless you happen to live in a council flat (which you're unlikely to get even if you're coming from elsewhere in the UK, let alone another country). Properties in Zone 2 are rapidly increasing in price although there are a wider range of locations and properties to choose from in this area.
The closer a flat/house is to a station, the more expensive it is. Underground stations command an additional premium over stations served only by the Overground, DLR, and/or National Rail. Tram stations are the least desirable, partly due to their location and partly because none of the tram lines run into Central London.
Crossrail is having a big a big impact on property prices. If you are looking to buy, be aware that prices for houses and flats near future Crossrail stations have been increasing rapidly in many parts of London. Whether this will continue after Crossrail opens in 2018/19 remains to be seen.
Very expensive properties can be located across the street from incredibly deprived estates. This means making generalizations about areas can be very misleading. This is also why it's a good idea to check out an area before moving in. One street can make a huge difference.
That said, the fewer council estates in an area, the higher the property prices tend to be. In Central London, Victorian terraced homes are particularly popular, whereas in the suburbs, you'll find more semi-detached inter-war homes. Detached homes are quite rare in London and it's unlikely that someone earning a middle class income could afford to rent or buy one.
London's property market is changing very rapidly, with formerly unfashionable/affordable areas becoming fashionable/unaffordable in as little as 12 months. This can make picking a place to live rather difficult.
A Few Areas to Consider
trans

It's next to impossible to cover all the areas in London in any meaningful way. There are far too many different things to compare.
However, if you're looking for a place to start, I've included a general description of the types of properties you'll find in a few postcodes to help you begin your search. Postcodes are a common way to identify roughly where you live and they correspond very loosely with compass points from the City of London.
It's worth noting that there is no NE postcode or S-only postcode. For each postcode group, I've included an area where you could live if money is no object (household income £100k+/year), if you've got money to spare (household income £40k-£100k/year),and an area where you could live if you're on a budget (under £40k).
I've also included a few areas to be careful of; these areas aren't necessarily bad, but in my opinion, they have more bad bits than other areas. So if you do choose to look at properties in these areas, take an extra hard look.
The income numbers above are based on the assumption that you're a couple who wants to live by yourselves in a one-bed flat. If you opt to live with more people, you can probably move up an area, whereas if you have kids and you want a whole house, you'll have to drop down 1 or 2 areas.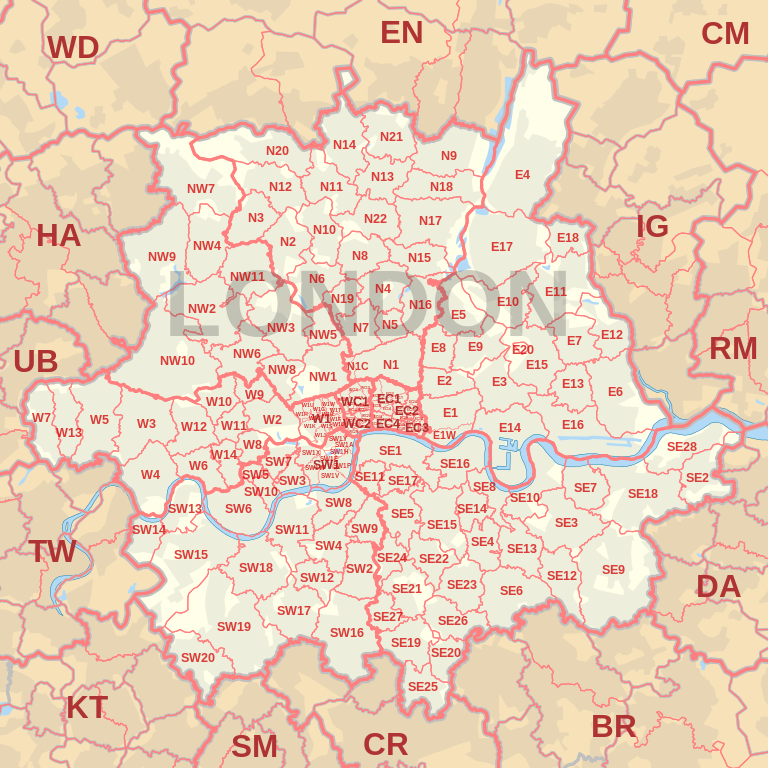 N postcodes include a wide variety of nice areas and only a few not-so-nice ones. Most areas have a somewhat suburban feel. Great for families, not so great for nightlife.
Money no object: Highgate.
Money to spare: Crouch End.
On a budget: Finsbury Park.
Be careful about: South Tottenham, Seven Sisters, and Edmonton.
E postcodes generally contain areas that were not very desirable until recently. This is a good thing as it means prices tend be lower than elsewhere. However, it also means there are few truly nice areas; most are still in transition. Great for affordability, not so great for peace and quiet.
Money no object: St Katharine Docks.
Money to spare: Wapping.
On a budget: somewhere in Hackney (but not for long), Walthamstow, Dalston (if you're a hipster), or Whitechapel.
Be careful about: Hackney (some areas), Beckton, and both East & West Ham.
SE postcodes contain some the best and worst parts of London, so it's very important to investigate what each area is like. Includes areas that are affordable and great for families and nightlife, as well as areas that aren't great for any of those things.
Money no object: Blackheath.
Money to spare: Greenwich.
On a budget: Abbey Wood, Kennington, Herne Hill, or New Cross and Peckham (for hipsters).
Be careful about: Lewisham, Elephant and Castle, and Thamesmead.
SW postcodes defy generalisation; they extend to areas on the North side of the Thames, which are some of the most desirable places to live anywhere in the world. Yet, SW postcodes also include some of the most notorious and dangerous areas in England.
Money no object: you've got a plethora of choices, including Belgravia, Chelsea, and South Kensington (among others).
Money to spare: Earl's Court or Fulham.
On a budget: Tooting, Streatham, parts of Clapham, Wandsworth, and Battersea.
Be careful about: Stockwell and South Wimbledon. Brixton is an interesting case because it used to have one the worst reputations in London but it's now gentrifying faster than almost anywhere else. If you are young and are looking to rent or buy in an area with good nightlife, check out Brixton before it becomes too expensive.
W postcodes include areas that go from the merely pricey to the completely unaffordable. These range from leafy suburbs to the mansions of Mayfair. Generally, the postcode is a good area for kids and families but only if you can afford it. Also note that the further west you go, the more likely that noise from Heathrow will be an issue.
Money no object: Mayfair.
Money to spare: Bayswater or Fitzrovia.
On a budget: Hammersmith or Acton.
Be careful of: North Kensington (especially the area around Latimer Road Station) and White City.
NW postcodes also contain some of the most desired property in London and some of the most deprived estates in the whole of the UK. That said, it really has everything, from quiet suburban streets to the nightlife of Camden. Thus, it can be right or wrong for almost any way you want to live.
Money no object: Hampstead or Primrose Hill.
Money to spare: Belsize Park (closer to Chalk Farm), Tufnell Park, or Queen's Park.
On a budget: Kilburn, Willesden, or Kentish Town.
Be careful of: South Hampstead, Camden Town, and Sommers Town.
WC/EC: Honestly, if you can afford to live in a postcode that starts with WC or EC, go for it! These are the most centrally located postcodes in London (EC is the City and WC is the area immediately to the West of the city). While few Londoners ever get a chance to live so centrally, the opportunity is not one to be missed if you can manage it. In general, WC postcodes are slightly more expensive than EC ones.
Outer London Postcodes to Consider:
EN: is the Enfield postcode area and includes areas further north from London. Similar to, but cheaper than, N postcodes.
HA: is the Harrow postcode area and includes the famous Wembley stadium. It is the area immediately to the west of the NW postcode.
KT: is the Kingston upon Thames postcode area; it's west of the SW postcode area and contains a mix of desirable and not so desirable areas. Certainly cheaper than Central London.
TW: is the Twickenham postcode area. It is north of the KT postcode and west of the SW postcode. While you may not realise it, the TW postcode may be the first London postcode you visit when you arrive in London, since this is where Heathrow is located. So expect affordable property tinged with the noise of the airport.
UB: is the Uxbridge/Southall postcode area. While the area is fairly boring, many bits of it are well served by the tube, especially the ones along the Uxbridge branch of the Piccadilly and Metropolitan lines.
Guides to London postcodes:
Since there's a lot more to London's various areas than what I've described above, here are some additional resources to better understand London's postcodes and residential areas.
How Much to Spend on Rent/Mortgage?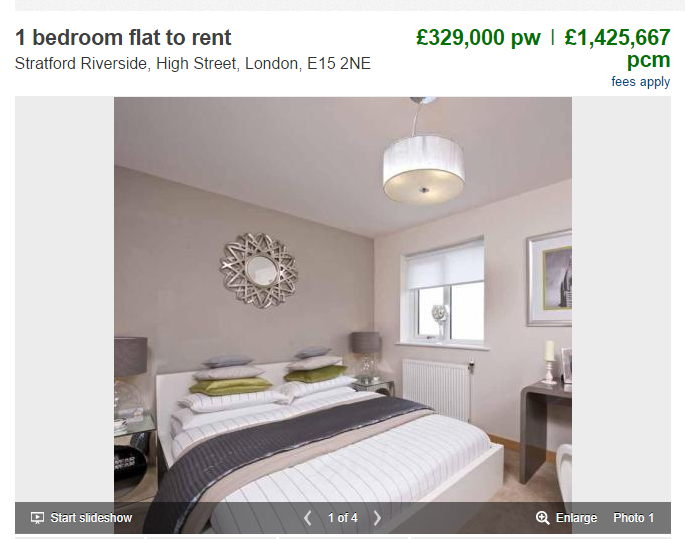 Hopefully you can find something slightly cheaper, source: Rightmove.co.uk
Renting in London is expensive, no matter where you're from in the world. You'll pay more and get less than in almost any other city on earth. Figuring out how much you can afford can be tricky, especially if you're just starting out.
When you're looking at rental ads, one thing to note is that prices are usually listed as price per week even though you'll only pay monthly. I suspect this is simply a ploy to stop people from fully realising how much they're spending on rent. Also keep in mind that the amount you'll pay per month is not the price per week multiplied by 4, because that would only cover 28 days in each month. Instead, landlords will charge you 4.3 times the per week rate to make up for the extra days.
Although increasingly difficult to find, it's still possible to find rooms in shared accommodation starting from £500 a month (£115 a week). For a 1 bedroom flat, it's pretty much impossible to find anything for much less than £1,000 a month (£230 a week), even in less desirable parts of town.
Thus, those on low incomes can easily spend up to 50% of their after tax income on rent alone. Keep in mind this often does not include council tax or utility bills.
Shared Accommodation vs. Living on Your Own
Given the reality above, the vast majority of those in their 20s and many people in their 30s live in a flatshare or some form of shared accommodation. The following is a quick guide on what you can likely expect based on age and family circumstance:
20s; single: You're going to be renting with several other people in either a dingy flatshare somewhat close to a somewhat desirable area or in a slightly less dingy place further away from anything desirable. In either case, it doesn't matter too much as you'll primarily be using it as a place to crash.
20s; couple: You're still likely to be renting with other people, but at least with two of you to pay the rent, you can afford something substantially nicer. If you do opt to live on your own, don't expect anything too luxurious.
20s; couple/married with kids: Good luck, hopefully your parents can help you out.
30s; single: Possibly still renting with other people. Hopefully, you're earning more than in your 20s and can afford a nicer place and/or to live with fewer people.
30s; couple with no kids: Live in a rented 1 bedroom flat that costs more per month than your parent's mortgage payments.
30s; couple/married with kid(s): Live in a rented 1 bedroom flat and use the living room as a second bedroom while desperately trying to save up enough for a deposit on a house in zone 5/6.
40s+: Whether single, coupled, married, divorced, with or without kids you should hopefully own some form of property somewhat in line with your circumstances. The only people you have to live with are those you choose to live with.
For more on what it's like to live with flatmates read these:
Keep in mind that the above assumes that your parents aren't helping you out and/or you don't work in finance/banking. If either of those describes you, you can disregard everything I've just written and just go straight to living on your own, in whatever type of accommodation you (or your parents) can afford.
Renting as a Non-UK National
If you're not a UK citizen, you should expect to have a somewhat difficult time renting a flat, especially if you want to live on your own. On the whole, tenancy laws in the UK tend to slightly favour the tenant over the landlord. That said, with the tight supply and increasing demand for affordable housing, landlords have a lot of power in London.
As a foreign national, you are seen as more of risk than someone from the UK. This means landlords may ask you to pay 6-12 months in rent upfront. While this is grossly unfair and possibly illegal, I do know several people who've had to agree to these terms to get the flat they wanted. If you do want to live on your own, be prepared for this possibility and budget accordingly.
One way to potentially avoid this situation is to share accommodation with others in a shared house or flat until you've built up a credit and rental history in the UK. This will help when you do want to go out on your own in the future.

How to Find a Place to Live
You're likely going to have to deal with this guy at some point
There are a few ways you can find a place to live in London.
Estate Agents
If you're going to be living on your own (either renting or buying), the most common route is to use an estate agent. While estate agents are among the least trusted groups in London they also have access to more properties than the alternatives.
Having been fortunate enough to avoid estate agents until now, I don't feel I can rightly recommend any good ones or steer you away from bad ones. Instead, I'll point you to the following websites where you can search listings from multiple agents:
Fees: Vary by estate agent, but one month's rent plus another six weeks of rent for the deposit and £100 in administrative fees is fairly standard. Don't be afraid to ask each agent to specify their fees in writing, including who they will be paid to and when they have to be paid by. For more read this.
Living with Other People & Finding a Flatshare
If you're going to live with other people in a flatshare (pretty much everyone in their 20s and/or all singles, see above) and you would prefer not to use an estate agent, there are several websites that can help:
Spareroom.co.uk: Basically like a dating site, but for finding a flatmate. By far the most popular way I know for people to find flatmates in London, outside of friends and work.
EasyRoommate.co.uk: Same concept as Spareroom.co.uk and claims to be the world's largest flatshare site.
Gumtree: This is the UK equivalent of Craigslist (which is not widely used in London). Be careful about using it as there are plenty of scams along with legitimate offers. Never pay for a place sight unseen.
MoveFlat: Yet another flatshare site, layout is rather basic but seems to have a lot of listings.
Reddit London Homes: I know of several people who've found homes this way. Expect potential flatmates to work in IT and generally be a bit nerdy.
Room for Tea – A shorter-term option that bills itself between a flatshare and Airbnb.
Students
If you're moving to London as a student, I highly recommend looking into whether or not your university/college offers student halls of residence.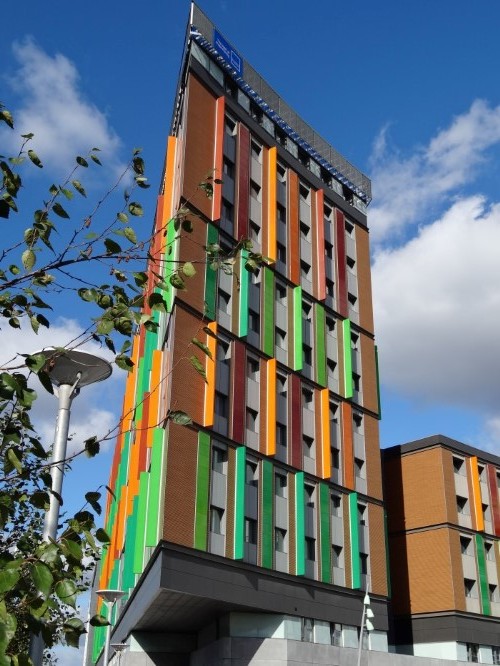 Just one example of student flats you can find in London
While these may not be the cheapest option, they are a good place to start while you're still getting to know London. It can be somewhat difficult to make friends here, so staying in halls for your first year can be a big help.
Foreign graduate students should check out Zebra Housing, a non-profit association that offers below market rents for flats in some of the most desirable parts of London.
Friends
If you have friends already living in London, you should be sure to ask them first as they may have a space available in shared accommodation or know of other people that do. I'm not sure about the number of people who find flats through friends/word-of-mouth, but anecdotally, I'd say that it's quite high.
Council Housing
While a large number of Londoners live in council housing (a form of social housing), you can forget trying to apply if you're just moving to London. Currently, there are more than 800,000 people on the wait list and it's growing longer each year.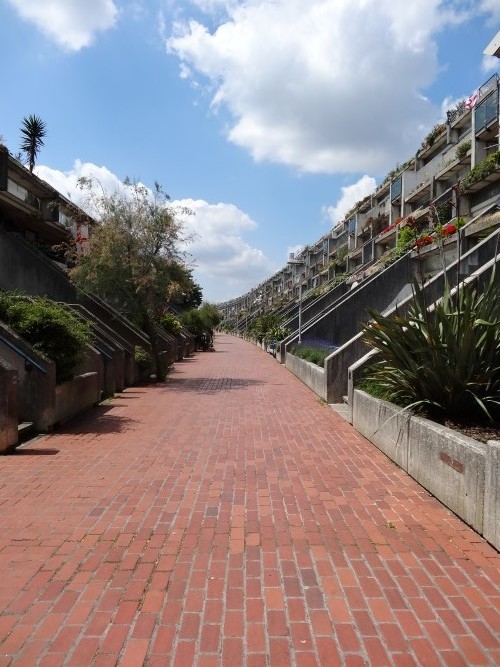 You won't be living here
That said, Shelter provides a good guide on starting the process if you'd like to try your luck.
Other Important Tips & Information
If you're renting your landlord must place your deposit into "a government-backed tenancy deposit scheme." Learn more here.
Fully furnished (rental) flats are very common. This is good because it saves you time and hassle moving heavy things. The downside, of course, is that you're stuck with someone else's choice of furniture.
For renters, many buildings have communal laundry facilities, and some flats may even come with their own washing machine. However, dryers (especially vented ones) are much less common even though the weather can be quite damp. If you don't have access to a dryer, you may need to invest in one of these: Home and Dry 3 Tier Folding Clothes Airer. If you don't have a washer, then it will be off to the laundrette.
The British also haven't totally caught on to the benefits of large fridges. It's partly a space issue and partly because many people in London eat out a lot. My wife and I had to get by with a bar fridge for the first two-and–a-half years we lived here. It simply means you have to make more trips to the shop for groceries (see below).
The Metropolitan Police Service have created this useful crime map so you can see how safe or dangerous an area is before moving there.
Council Tax: Unlike North America, everyone has to pay council tax (a regressive form of property tax) whether or not they own the property they live in. I think it's one of the dumbest taxes in the UK, but of course you still have to pay it. A couple living in a 1 bed flat can easily pay £1,000+ per year.
Trying to fully explain council tax would require a separate post. Instead, I'll point you to a few guides that can help:
How to Find Work in London
London's economy is booming these days, as is the cost of living. This means that it's important to find a job quickly once you move to London, or better yet, find one before moving here so you can hit the ground running.
National Insurance Number
If you weren't born in the UK, you likely don't have a National Insurance Number. However, you'll need to get one before you start looking for work. Only those who have the right to work in the UK are eligible to apply for one.
You can learn more here:
Gov.uk: National Insurance Overview
Or apply here:
Gov.uk: Apply for a National Insurance Number
Actually Finding A Job
How you go about finding employment will very much depend on the type of job you're looking for. For service work at pubs, restaurants, cafés, shops, etc. your best bet is to visit businesses in your area, and if that doesn't work, then consider looking in more central parts of London. Just make sure you have a well formatted CV.
Another way to find relatively unskilled work is through Gumtree. Finally, also have a look at temp agencies if you need to find work quickly. These may not always be the most glamorous jobs, but they can help you get some cash flow going.
For more skilled work, you have a few options. First and foremost, I recommend looking on LinkedIn – I've found that it flags up a lot interesting jobs and the ones that are posted there seem to be among the highest paying.
Recruiters
Another very common way to find work in London is via a recruiter. They get paid some obscene amount of money by your future employer for helping you find a job. In my experience, they are far more commonly used than in North America and even roles with a limited amount of experience can be found via recruiters.
I found my current and last jobs via a recruiters, and while I've dealt with some really bad ones, a good one can notify you about jobs you might not otherwise have been aware of. Recruiters often specialise in a particular industry, so it's best to Google ones in your field.
Word-of-Mouth
Word-of-mouth is another common way to find jobs in London and there are dozens of networking events, meet-ups, etc. that you can attend. Friends are, of course, the first people you should ask, if you work in the same field.
Company Transfer
If you're coming from overseas, one of the easiest ways to find work in London is to be transferred by your existing employer. They will have to sponsor your work visa, which kills two birds with one stone.
Taxes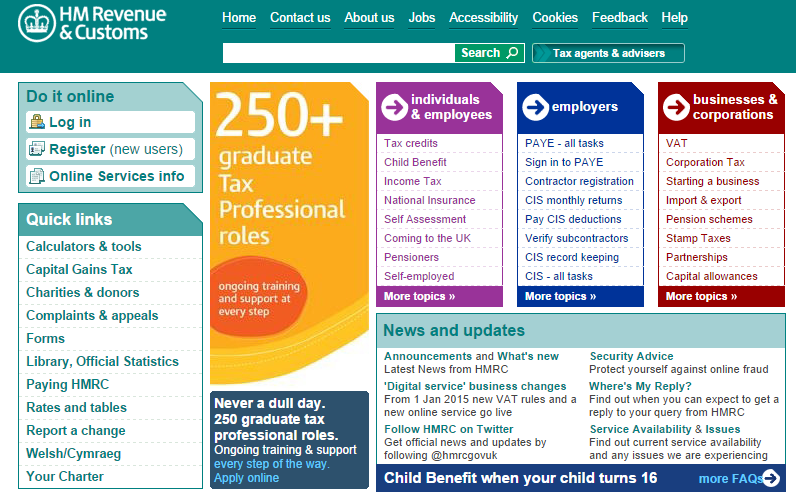 The HMRC website gives you an idea of just a few of the taxes you'll have to pay
If you move to London from elsewhere in the UK, you should already be familiar with the taxes you'll have to pay in London as they are basically the same as those you paid elsewhere (e.g. income tax, VAT, council tax, etc.).
However, if you're coming from overseas, it's important to understand a few of the taxes you'll face both in London and the UK.
Overall, taxation levels in the UK are substantially higher than in the US and slightly higher than in Canada. However, this pays for public services such as free, universal healthcare from the NHS, primary and secondary schools, better quality infrastructure, and relatively generous social assistance benefits, among many other things.
I'd say that when I first moved here, I slightly resented paying higher taxes. And while I still sometimes feel that way, I think the UK gets somewhat better value from its taxes than either Canada or the United States.
Here are just a few of the taxes you should be aware of:
Income Tax: The UK has a progressive income tax system that can be quite high for high income earners. In 2016-17, so long as you earn less than £100k per year, you get your first £11K tax-free.
You then pay the 20% basic rate for any income between £11k and £32,000, 40% high-rate on income between £32,001 and £150,000, and 45% on all income above £150k. You'll also be liable for National Insurance. Use this calculator if you know what your salary is likely to be.
Note: One odd thing about paying income tax in the UK compared to both the US and Canada is that, at the end of the year, there is no need to file a tax return if you've only earned income via employment.
Capital Gains Tax: If you earn income from the sale of company shares or earn interest (above the personal exemption amount) you'll have to pay either 18% or 28% in capital gains tax.
VAT: Most goods and services sold in the UK are subject to a 20% value-added tax. However, unlike North America, this will already be included in the price, so the price you see on the shelf is the price you pay.
Council Tax: A very odd and regressive form of property tax. Again, unlike North America, the residents of a property have to pay this tax – not the owner. Explaining how it all works would take a full blog post (see links above).
TV License Fee: Another rather odd tax that you have to pay each year if you watch live TV (either using a TV itself or online). However, the plus side is that it goes directly to pay for the BBC, which is both the world's best broadcaster and means programming remains commercial- free. If you only watch programs via catch-up on BBC iPlayer, 4oD, ITV player, etc. you currently do not have to pay the TV license fee.
Vehicle Taxes: If you drive a car, there are a whole host of taxes that go along with it. Petrol (aka gas) alone is at least 60% more expensive in the UK due to taxes. London also has a congestion charge (£11.50 per day) if you want to drive in the city centre and your vehicle will be subject to other fees for mandatory testing and registration. You can calculate vehicle tax rates on the Gov.uk website.
If you live in London and have a modest income, do what most other Londoners do and forgo the car. It's better for the environment and your wallet! And if you do need a car there are services such as Zipcar and Zipvan.
While these are the major taxes you will face living here, you may also have to pay stamp duty if buying a home and/or business taxes (e.g. corporation tax, business rates, etc.) if starting or running a business. Moreover, on top of income tax, you will also be required to pay National Insurance.

How to Set Up a Bank Account
No matter what anyone tells you, you can't open a bank account with the Bank of England
If you're moving from elsewhere in the UK, you can do all your banking in London just as you would at home. However, you'll probably want to change your address and branch as soon as possible to one closer to you. This will save you missing any important mail.
If you're coming from overseas, you may have a 'fun' time trying to open an account as the rules seem to change from day to day, depending on who you're dealing with. When my wife and I moved here, we opened an account with NatWest as they're everywhere and we thought it would be easy to do.
While opening up individual bank accounts was theoretically possible, opening a joint bank account seemed to cause all sorts of issues. At the time, we were told it was a very uncommon thing to do, but I've subsequently met several native Britons who have this exact type of account, so it can't be that rare.
Eventually, after some persistence, the bank agreed that we could open a joint bank account – except that the associate we were talking to couldn't do it as he didn't know how. When his supervisor came over to ask if he would like to see how to do it, he simply replied "no". Fortunately, other employees were able to do it, but it wasn't quick.
The two things you'll definitely need to open a bank account are:
Your passport
Proof of address (ironically many landlords won't rent you a flat if you don't have a UK bank account, so you enter a world of catch-22s.)
Now, it would be great if these two documents were enough to open an account, but it seems to me and several other expats I've talked to that they may not be enough. If not, grab any other documents the bank asks you for and go back. It may take a few tries, but it is possible to set up a bank account with some persistence.
If you're coming to the UK as a student, it may be worth inquiring with the admissions department to see if they can write a letter to help make opening an account easier.
A few banks to choose from:
MetroBank – Not used them personally, but they seem to have the best reputation.
NatWest – My current bank. Not overly impressed with them but they are everywhere and, so long as you don't have to do anything complicated, the service is adequate.
HSBC – Generally heard good things about them, but most accounts have monthly fees. If I was rich I'd probably go with them as they have branches all over the world.
Barclays – Original sponsor of London's Boris Bikes.
RBS – Also government-owned and affiliated with NatWest.
This is not an exhaustive list, there are several other high-street brands. If you opt to get an account when you get here, I'd say just go to your nearest bank. I think they're all roughly as bad as each other.
A few other points about banking in the UK:
Most bank accounts allow you to withdraw cash from another bank's ATMs at no cost (this is often advertised as 'free cash' – if only it were true!).
It's very common to give your account details to other people so that they can send money directly to your account.
Cheques are rarely used here – rent is paid by direct debit in almost all cases, along with other types of bills such as heating, electricity, internet, etc.
Your debit card can also be used to pay for things online, just like a credit card (except without the credit bit).
Transferring Money from Overseas
Generally speaking, I've always transferred money to the UK from overseas using an international wire transfer. It works and the money goes straight into your account. That said, you may not get the best rates, especially on really large transfers. MoneySavingExpert has a guide on options for transferring money both to and from the UK.
Please be sure to speak with a financial and/or tax advisor before transferring money to the UK as you may be liable to pay tax and/or fall afoul of international money laundering laws.

Transportation in London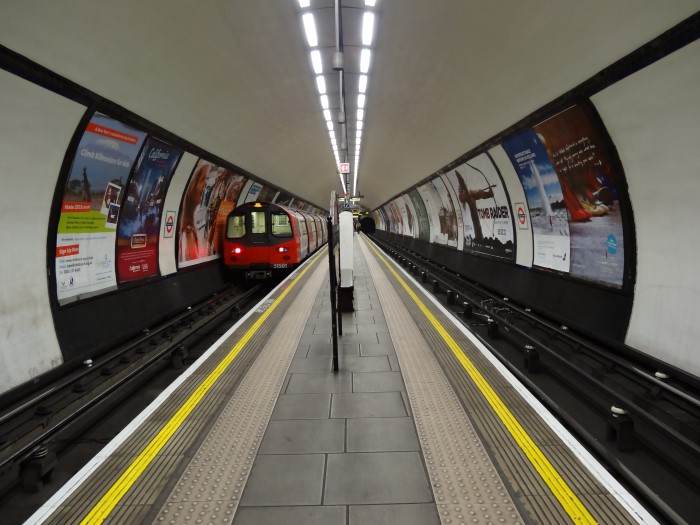 Besides the weather, commuting is probably the most common gripe that Londoners have. If possible, I'd say it's best to live within walking distance of your work. However, for 90%+ of people that is unlikely to be feasible. If you're brave, you might want to consider cycling as this is becoming increasingly popular.
If your work is located outside London, you might want to consider a car. Both Zipcar and Zipvan might be options if you don't want to own your own.
For everyone else, you'll probably have to rely on public transportation.
Here are some general guidelines:
If possible, try to live and work on the same line (either the Tube, Overground, DLR, or National Rail). This will save you having to transfer and means there are fewer points at which you could encounter delays or other problems during your commute.
While the Tube gets a disproportionate amount of attention, don't rule out National Rail trains as an option. Concentrated in South London, you can often use them to get into Central London faster than taking the Tube.
Similarly, you may also want to consider living on an Overground and/or DLR line.
Think twice about using a bus for any part of your commute. While there are 50% more bus journeys than tube journeys taken each day in London, I find buses to be unreliable and slow even at the best of times.
A travel card (on your Oyster) might not always be the cheapest option. If you commute to work 5 days a week at peak times, it almost certainly is, but if you commute during non-peak times or work non-standard shifts, it may not be.
To find out more about London Transport, be sure to read the transportation section from my London Guide and visit TFL.
Note on Taxis: Until a few years ago the iconic London Black Cab was one of the few late night transportation options. While very common today, they are also extremely expensive. That's why people are increasingly using Uber, which often costs half as much, plus you can get your first ride free when you sign up here.
Living in London – FAQs
It's next to impossible to try to capture what living in a city of 8.6 million people is like. Some people love London, some people hate it. I'd say that the majority of people dislike some aspects of London, but when push comes to shove, they wouldn't really want to live anywhere else.
Below are a few questions you might still have about living in London, and my personal answers to them.
What's The Cheapest Way To Move My Stuff Stuff To London?
Unfortunately, there's no one size fits all model. If you're moving from overseas, your best bet is to compare quotes from international moving companies. International shipping rates can vary between £300-£10,000+ depending on where you're coming from.
If moving from within the UK you can generally hire a man and van to do removals from as little as £200 to £1,000 depending on how far you're moving and how much stuff you have.
You might also want to consider services like Box Move Deliver which will compare removals companies for you. You can get started with a free quote using the form below:
How Much Does It Cost To Move To London?
Thank you. You will hear from us soon.
Wait!
an agent is calling you now from
+1 (800) 680-6439
Please pick up your phone to be connected with an agent to give you a personalized quote based on your move details.
How Can I Meet People/Make Friends?
There are over 8 million people in London so making friends should be easy, right? Well, yes and no; Londoners tend to be fairly reserved during working hours, but after work, there are hundreds (if not thousands) of potential events to choose from where you can meet people.
Here are just a few ways:
Friends from back home/university: If you studied at a university in the UK, chances are that you'll know at least one person who now lives in London. The advantage of this approach is that you already know someone but the downside is that you may wish to move on and meet new people.
Work: If you're working in London, you may luck out and actually work with people you'd like to go for a pint with after work. On the plus side, it's usually relatively easy to organise something as everyone will just go out right after work. On the downside, you'll likely end up talking about work (not necessarily a bad thing) and/or end up saying something inappropriate around people you have to see again on Monday.
Pubs: English pubs are one of my favourite things about London. You can meet all sorts of people in them, and despite their alarming rate of decline, most parts of London usually have a least one good one. The advantage is that pubs are everywhere and you can meet a more diverse crowd than you might otherwise. The disadvantage is that drinking isn't for everyone and some pubs with an established customer base may not initially seem welcoming to newcomers.
Meetup.com: Basically a website that holds meet-up events on every conceivable topic you could image, from bitcoins to writing workshops, pubs,and pretty much anything else you can imagine.
On the plus side, you can meet people who have the same interests as you. On the downside, meet-ups can be a very mixed bag – some aren't great and long-established groups may be a bit cliquey. But, if the group is based around a shared interest, you should be able to find people you get along with.
Other Meetups: Besides Meetup.com, you might also want to check to see if any of the websites you use regularly have meetup events. For example, I've met many friends from both Reddit and Londonist events such as their pub crawls.
Dating: Unfortunately, I can't help you here much as I've been very happily married for 5 years. That said, I have many single friends and finding dates doesn't seem to be all that difficult in London. I know people that use Tinder, OkCupid and attend singles events (check TimeOut).
Are There Good Restaurants?
The pineapples at 2 Michelin star restaurant 'Dinner by Heston Blumenthal'
Well, there are currently 64 Michelin-starred restaurants in London so you should probably disregard any stereotypical images of boiled meat and grey veg. London is a cosmopolitan city where you can find food from every cuisine and from every country on Earth.
Now, if you're French, you may complain that you can't find bread as good as in France, or if you're from California, you may think that the Mexican food here is sub-par. Or, if you're Canadian like me, you may complain about not being to find decent poutine. It would be crazy to say that London has the best food in the world, but the dining scene in London is continually improving, so who knows… in a few years' time maybe we'll have better poutine!
Are Groceries Expensive?
Overall, groceries in London are more expensive than in the United States, and from what I can tell, they're roughly on-par with what they cost in Canada and Australia. That said, some items will be cheaper and some more expensive than what you're used to. For example, coming from Canada, I find cheese incredibly cheap here, however if you come from France, you'll likely find it expensive.
There are a number of large grocery chains here that serve different price points. At the lower end of the scale, you have ASDA, Lidl, Aldi, and Iceland. Mid-priced stores include Tesco, Sainsbury's, and Morrisons. And, at the high end, you have Waitrose, M&S, and Ocado (online only).
Many of these chains also offer smaller, local versions of their main stores with names like Tesco Express or Sainsbury's Local. These stores are great because they sell the same products for the same price you pay at full-sized stores.
Finally, it's also much more common in London to order groceries online and have them delivered to your flat or house. Depending on the store, you may be able to get them delivered for free for large orders but even for smaller, peak-time deliveries the fee is generally below £5.
Where Are The Best Places To Go Drinking?
This could be a blog post on its own and the simple answer is that there are tons of great places to drink. In fact, there are far too many for me to list here. You can check out a few that I recommend in my London guide, or visit Beer in the Evening, Londonist's ever-growing pub guide and/or TimeOut's guide to bars and pubs.
What's the Weather Like?
The weather in London is usually considered to be better than the rest of the UK. We typically have mild winters (temperatures rarely drop below freezing; 0C) and temperate summers (temperatures rarely go above 25C). However, it does rain quite a bit, especially in winter, so be prepared to buy a compact umbrella and/or a good rain jacket to protect you from the drizzle.
London is much further north than you'd expect given its mild weather (e.g. it's significantly further north than New York, Ottawa, or Montreal). This means that, in summer, you'll get over 16 hours of sunlight (great for staying out late, awful for waking you up early) but in the winter it means less than 8 hours of sunlight, which can be quite miserable.
Finally, one thing that you will notice is that the British love to talk about/complain about the weather. Besides the rain, I find the weather in London far more pleasant than Canada, where we routinely have days where it's -25C in the winter and a sweltering +30C in the summer. So, if you come from a place with much more extreme weather, just nod politely and (try to) sound sympathetic.
What Should I Bring?
The short answer is: less than you think you should. The main thing to bring is your clothing; while there are plenty of cheap places to buy clothes in London, you might not be able to get the same size or style as you do in North America. Clothing can also be more expensive than in North America, even if you discount the VAT. Besides that, bring only what you think you'll need and nothing more.
Don't bring the following:
Your car: They drive on the left in the UK and it's expensive to run and ship. Overall, it's a terrible idea.
Furniture: Most places come partially or fully furnished which saves you having to buy or bring you own.
Electrical/kitchen/other appliances: Again, your flat may already have these items, and if not, the UK runs on 230V whereas the US and Canada run on 120V. This means that plugging in your appliances will likely cause them to short circuit or explode. Australia has the same voltage as the UK but uses different plugs.
A note on electronics such as laptops, cell phones, kindles, etc.: The vast majority of electronics will work in the UK, but you'll need a plug adaptor. Before plugging it in, check that your devices power supply can handle 230V. If you're unsure, go to an electronics retailer and ask them to check for you.
You might also want to check out this moving checklist.
Should I Buy a Car?
Honestly, unless you're planning to work outside of London, I'd say no. Cars are expensive, petrol is expensive, and the congestion charge is expensive. The hassle generally isn't worth it. That said, if you do own a car, you'll be really popular with your friends.
You could also consider using Zipcar or just use Uber.
How Fast is the Internet?
Internet speeds aren't quite as fast as in South Korea but there has been a move towards fibre in the last 3 years. Overall, speeds are faster and prices are lower than in North America. While I currently use Sky Digital, I think most of the companies offer fairly similar speeds.
To get the best deal, I'd check out the following companies and go with whoever has the best promo offer at the time:
BT Broadband – They are the national phone company, so offer some of the fastest connections (including fibre), but also at somewhat premium prices.
How Expensive are Mobile (Cell) Phones?
Prices vary widely by carrier but, once again, plans are usually much cheaper than they are in North America. I personally use Giffgaff (warning: you need an unlocked phone to use them) and pay £10 per month for 500 minutes, unlimited texts, and 1GB of data on 4G, with no contract.
Giffgaff (and several other companies) also offer contract-free Pay As You Go (PAYG) options that may also be worth considering while you compare plans.
If you want a plan that comes with a free phone, expect to pay £20-£40 a month for a contract. For special offers visit buymobiles.net.
For other options you may also want to consider:
As for the phones themselves, they are more expensive than the US party due to the VAT and partly because electronics are just more expensive in the UK.
Where Can I Find Out about Local Services?
London is divided into 32 boroughs + the City of London. Just do a search for your borough's name and their website will give you all the details you need about local services, from rubbish collection to schools.
How Do I Pay My Utilities?
If you move into a flatshare, utilities will already be set-up and you'll just have to pay your share. If you're moving into a new house/flat you can often just continue using the previous provider. Most people pay via direct debit.
However, you may come across a situation where you pre-pay for either gas and/or electricity using a card or key. This seems really bizarre, but basically, you take the card or key to a PayPoint location (usually located inside a slightly inconvenient convenience store) and then give them cash to top it up.
Is London a Safe City?
In a city of 8 million people, crime does happen. London is much safer than New York (there were 82 homicides last year in London compared to 333 in NYC) but probably not quite as safe as Tokyo. Assaults (often alcohol related) and property related crimes are certainly not unknown, but thankfully, they are quite rare for most people. You can find out more about the types of crimes in each area of London using the Met's crime map.
What is Healthcare Like in the UK?
If you're from the United States, you may be shocked to find that the UK has free, universal healthcare provided by the National Health Service (NHS). If you're from anywhere else, free, universal healthcare will come as little-to-no surprise.
Overall, the NHS provides a relatively high level of service when you need something done. However, from my experience, the UK is not as big on preventative care as Canada. Nevertheless, a recent survey shows that British citizens value the NHS above all other institutions in the UK – ahead of the monarchy or the military.
The three key things to know are:
You should register at a local GP surgery or practice as soon as you move so that you can be covered by the NHS right away. You can learn more here.
If it's an emergency, you can visit an A&E department without charge.
If you have a minor injury or you would like to see a doctor that day, you also have access to NHS walk-in centres.
For a complete of services offered by the NHS read this.
While some dental treatments are covered by the NHS, not all are. According to their website: "You're entitled to have all clinically necessary treatment on the NHS." Learn more about finding a dentist here.
Finally, if you'd still rather pay for your own treatment, private GPs and hospitals exist alongside the NHS. Some workplaces offer private medical insurance as part of their compensation packages, but ths is not the norm for most low- or mid-salary jobs.
For more about the differences between the US and UK healthcare systems see:
Is There Anything I Shouldn't Do?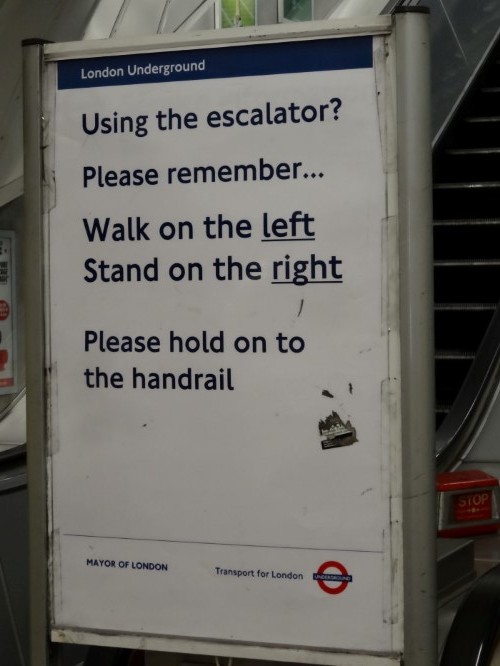 Not following this one rule may result in angry stares
Avoid doing the following and you'll fit right in:
Don't stand on the left on escalators
Don't try to get on the train until everyone has gotten off
Don't go to Oxford Street
Don't use giant golf umbrellas
Don't call someone from Scotland, Wales, or Ireland/Northern Ireland 'English'. The Scots, Welsh, and English are all British, the Irish from the Republic of Ireland are Irish and Northern Ireland has very complicated issues with national identity. This video may help.
That about sums up the most important things you need to know about moving to and living in London. However, since I can't cover everything, here are a few other helpful guides and websites you may find useful:
How Much Does It Cost To Move To London?
Thank you. You will hear from us soon.
Wait!
an agent is calling you now from
+1 (800) 680-6439
Please pick up your phone to be connected with an agent to give you a personalized quote based on your move details.
Have a question you didn't see answered above? Then ask it below, I'm more than happy to give you my opinion on any and all moving to London questions.
[fbshare type="button_count" float="left"] [twitter style="horizontal" float="left" source="randomlylondon"] [google_plusone annotation="bubble" style="horizontal" size="medium" float="left"]