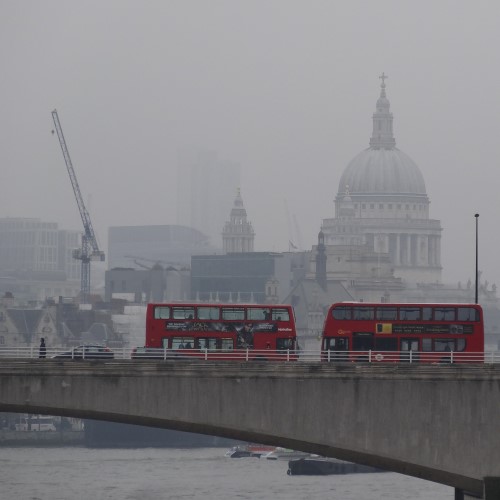 London in a sentence: "London is a city by a river, plus lots of villages joined up by an underground railway." – @TubeRambler
My oldest Canadian friend and his girlfriend are planning on making their first trip to London in July and wanted some ideas on places to stay and things to do. The problem, of course, is that there are so many different areas to stay in and things to do, that narrowing down the list to something useful and manageable can actually be quite difficult.
I've written this incomplete guide for them in particular but I hope you will find at least some of the advice useful for your situation. I should note however that this guide is intended for people in their early 30s, from North America, staying for only a few nights and who would like to see the major sights. If that's not you then you might not find it so helpful.
London vs. Toronto (or New York, Chicago, etc.)
When thinking about London it is important to remember that:
London is much more historic than Toronto
London has far fewer tall buildings than Toronto
London doesn't have a single downtown area like Toronto
London has far more wealthy areas than Toronto
London has a far better public transportation system than Toronto (fact: the metro system is known as the Underground or tube, not the subway. The term 'subway' refers to a walkway under a road)
London can seem to shut down earlier than Toronto; the standard time for last orders at a pub is usually 11 PM or 12 AM. However, there are lots of late-night drinking venues if you know where to look.
London's major geographic feature isn't a lake but the Thames, which divides the city north-south.
Like Toronto, London is divided into neighbourhoods and each one has its own unique character. However, given that the cities are so different, there isn't really a like-for-like comparison.
Where to Stay In London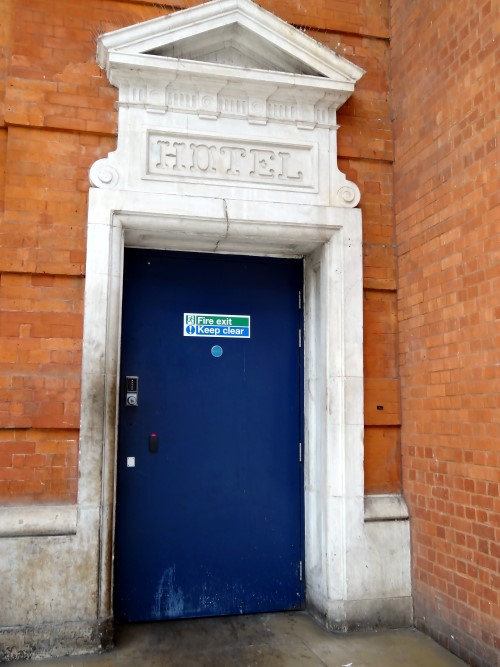 Obviously, the cheapest accommodation option is to stay with someone you know. This of course assumes you know someone who lives in London.
However, even if you do know someone living in London, it's important to remember that many Londoners in their late 20s/early 30s are still living in flat shares. Thus staying with them is not always a practical option – especially if you value your privacy.
I live in Primrose Hill, which is arguably one of the nicest bits of London. However, the area doesn't really have many hotels/hostels. I would say it has a similar feel to the area I grew up in, except with more celebrities and far older and far more expensive homes.
Airbnb may have options in the area or Camden Market is about a 10 minute walk away where there are many hotels/places to stay. While the area is very popular with tourists, it isn't within North American walking distance of the majority of London's major tourist attractions.
If money is no object, I would suggest the Savoy or the Ritz. However, rooms at these hotels cost around £500 per night, so you'd end up spending your monthly rent in Toronto in just 2-3 days.
So what are some good areas to stay in that won't break the bank?
Well, there are often many hotels around major railway stations. Central stations within easy walking distance of major sights include: Waterloo, Victoria, Charing Cross, and London Bridge. Alternative stations you might want to consider that are central but a little farther afield are: King's Cross, St. Pancras, Euston, and Farringdon.
Finally, if you choose to take the Heathrow Express (see transportation section below) you might also want to consider Paddington. I'm not a massive fan of the area but there are plenty of places to stay and you have the added advantage of not having to schlep your suitcases on the Tube.
In terms of places to stay that aren't immediately around train stations, I'd recommend: Covent Garden (where I first lived in London), Piccadilly Circus, Leicester Square, and Bloomsbury. All of these are centrally located and within walking distance of many of London's major tourist attractions.
The one area I would avoid when staying over a weekend is anywhere in the City of London – aka the Square Mile. While over 300,000 people work there Monday-Friday, fewer than 8,000 call it home. This means that virtually all shops, restaurants, and pubs are closed on the weekend, which can make finding breakfast/dinner difficult.
What to See & Do
Buckingham Palace is probably worth a look
London is best enjoyed on foot and I highly recommend walking everywhere possible. The tube map often distorts distances so don't rely on it for navigation. Here are just a few of the things to see and do in London:
Free* Things To See & Do:
Buckingham Palace: Free to look at the outside; roughly £20 per person to tour the State Rooms (open in August, September, and on special dates only).
Houses of Parliament/Big Ben: Free to see from the outside; possible to arrange a free tour via your MP if you're a UK resident; £16 otherwise.
Piccadilly Circus: London's version of Times Square.
Tower Bridge: Often erroneously referred to as London Bridge. Free to walk over; exhibitions cost money.
Trafalgar Square/Nelson's Column: Commemorates the famous British victory over the French in 1805; see the rotating art on display at the Fourth plinth.
Covent Garden: Used to be the major fruit and veg market for London up until the early 1970s. Saved from being totally redeveloped, now you can find a bunch of shops and restaurants in the area.
Free* Museums:
The Imperial War Museum is one of the few reasons to venture south of the river
British Museum: A museum of civilizations its most famous artifacts include the Rosetta Stone, Elgin Marbles, and the largest collection of mummies outside Egypt.
Victoria & Albert Museum: A museum of art and design. One of 3 museums in South Kensington.
The Science Museum: Probably the best science museum in the world and right up the road from the V&A.
Natural History Museum: The 3rd of the South Ken museums, it's home to 70 million specimens.
National Gallery: Western European art from the 13th-19th centuries.
Tate Modern: London's largest modern art museum. Housed in an old power station on the South Bank, you can get to it by crossing the Millennium Bridge from the City.
The Imperial War Museum: Closed until July 2014, this museum is exactly what you'd expect.
Museum of London: My favourite free London museum because it's all about London. Worth a look if you'd like to learn more about the city.
Free* Parks: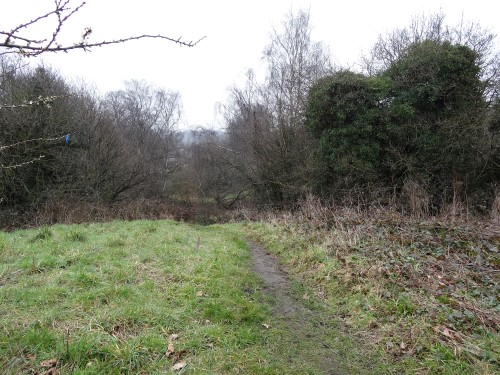 Green Park/St. James's Park: These two parks are on either side of Buckingham Palace (see above).
Hyde Park/Kensington Gardens: Central London park that includes Kensington Palace (not nearly as impressive as Buckingham Palace; entry fee to go inside) and Serpentine Galleries.
Regent's Park/Primrose Hill: Back up in my neck of the woods. Primrose Hill provides one of the best free views of London and Regent's Park houses the London Zoo.
Greenwich Park: The most popular reason to go to Greenwich is to see the Prime Meridian. You can pay to go in the Observatory, but the park is free.
Hampstead Heath: Much wilder than the other Royal Parks listed above. Great place to go to get away from the busyness of central London. Parliament Hill provides another great vantage point to look at all of London.
Free* Walks: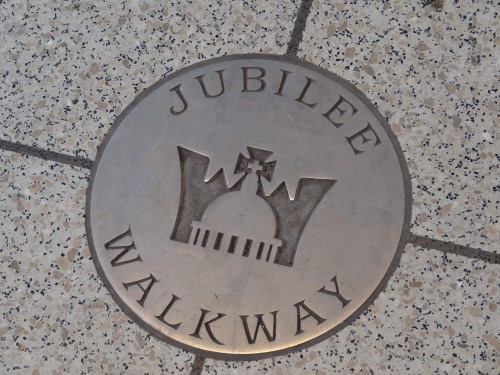 As mentioned above, walking is the best way to see London. Here are just a few areas to walk around:
The City: Nowhere else in London is the contrast between the old and new more pronounced. I love just wandering around the medieval streets and seeing what I come across.
South Bank: You can walk more or less continuously along the Thames, all the way from the MI6 headquarters in the west to Tower Bridge in the east. Lots of pubs and restaurants along the way and also great views of London's iconic buildings like the Houses of Parliament and St. Paul's.
Victoria Embankment: A bit of a shorter walk along the north side of the Thames that can take you from Blackfriars (at the edge of the City) to Westminster.
Royal Parks: If it's a nice day, walking in one of London's many Royal Parks (see above) is a great way to pass the time. At times, it can be easy to forget that you're in one of the biggest cities in Europe.
Jubilee Walkway: Basically at 15 miles (in 5 manageable sections) – it's the ultimate tourist walk.
* All "free" things listed above have a free component, any extras may or may not cost money. The listings below will all cost money and likely a lot of it.
Thing To See & Do That Cost Money: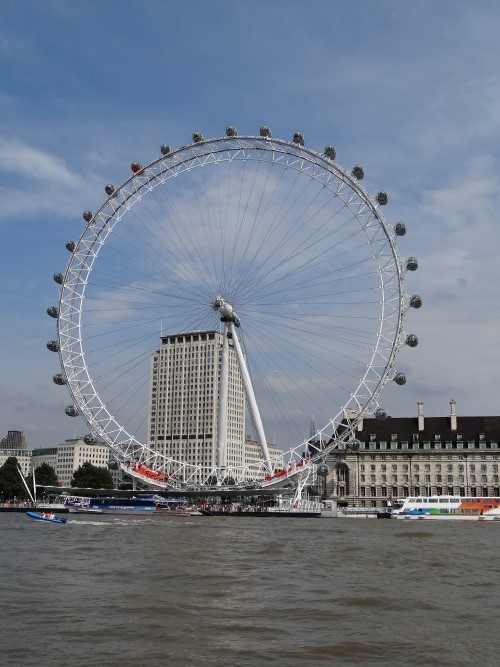 Tower of London: If you pay to see one sight then this should be it. It's expensive, at over £21 per person at the time of writing, but worth if you have any interest in English history.
London Eye: Get a great view over London in this giant Ferris wheel. However, it isn't cheap, with prices now nearly £30 per adult when you buy a ticket on the same day (online prices are slightly less).
The View from The Shard: Something I haven't personally done yet (but would be willing to write about for free tickets, hint, hint Shard marketing team). This is the highest observation platform in London and the EU, and at £25, it is slightly less expensive than the Eye but also a bit less unique.
Cable Car (aka the Emirates Air Line): Supposed to be a viable transportation option in east London, but not. However, as a tourist attraction, it can't be beat at only £3.30 a ride (using an Oyster, just tap in, see below). Provides a unique view of Canary Wharf (London's second financial centre), the Thames Barrier, and the O2 arena.
St. Paul's Cathedral: In my opinion, it's London's greatest church. I last went into St. Paul's in 2000, when admission was only about £2-3, but now it's £16 if you buy at the door. In my opinion, it's still worth the price if you like visiting churches.
Westminster Abbey: London's other really famous church and certainly worth a visit if you're a fan of churches. Tickets are slightly more expensive than St. Paul's, at £18 per person.
London Transport Museum: Right in the heart of Covent Garden, this is my favourite paid museum. However, only recommended for those who really want to learn a lot about the history of transportation in London. Tickets cost £15 and are valid for the following 12 months.
Kew Gardens: The only major park in London that costs money, but it hosts the world's largest collection of living plants. The gardens are huge and you can easily spend a day wandering around if you enjoy looking at plants. Tickets are around £15 for adults.
West End Shows: London has a huge variety of theatres and live shows concentrated in the West End (Covent Garden, Soho, Leicester Square, Piccadilly Circus, etc.) Tickets are often booked months in advance for the most popular shows, but you can always try your luck with same-day tickets at TKTS.
Things I Would Personally Avoid: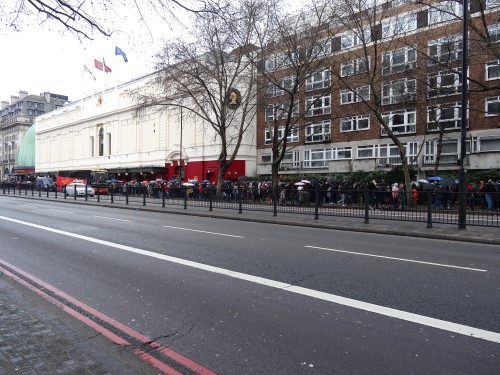 Now I certainty don't want to tell people what they should and shouldn't see in London, but there are several tourist attractions in London that I fail to see the appeal of. I haven't been to any of them, so I have no idea if they are good or not, but if I feel like it's something I could see/do in Vegas, I'm not going to spend my time and money doing it here in London.
Some of these include:
Madame Tussauds: This is actually the original wax museum and is authentically London. I just don't understand the appeal of spending £30 to look at wax figures of famous people. That said, the near constant queues outside prove I'm obviously missing something.
Ripley's Believe It or Not!: Not really sure why you'd go there or even what's inside but I can think of a few other things I'd rather do with my £25.
Prison/Dungeon/Scare attractions: This includes attractions such as the London Dungeon, the London Bridge Experience, and the Clink Prison museum. These seem to be really popular but cost anywhere from £7.50-£25 per person. If you want to see this sort of thing, go to the Tower of London where these things actually happened.
Oyster: All You Need For Getting Around London
Using an Oyster card can sometimes be a little tricky.
The first thing you need to do once you arrive in London is get an Oyster card. If you land at Heathrow, you'll be able to get one at the Underground station at the airport. If you land at any of the other airports, find your nearest tube station and/or a newsagent once you get into London.
To understand why you need one, just look at the fares. For a zone 1 journey, the cash fare is £4.70 whereas the Oyster Fare is £2.20. When you get a card, you'll be asked to put a £5 refundable deposit on the card, plus an additional cash amount to cover your journeys.
Don't worry if you put too much cash on your card. You can get a full refund when you leave if you take it to the nearest tube station. If you use the tube to get to Heathrow on your way home, you can cash in your card at the end of your journey by going to the ticket office.
Also, if you use an Oyster card, there is a daily limit on how much you'll get charged, which varies according to the zones in which you travel. Most of London's attractions are in zones 1-2, so if you use the card several times in one day, you'll hit the zone 1-2 cap.
To use the card just tap your card against the yellow Oyster card reader and wait for the light to change from orange to green. For buses and trams you only need to tap in at the start of your journey, for all other modes of Oyster transportation (Tube, DLR, Overgound, Rail, etc.) you need to make sure you tap in at the start and tap out at the end. This is true even for stations without ticket barriers. Instead these stations will have small readers by the entrance/exit that you can use to tap in or out of.
For more on how Oyster cards work, read: Transport for London's guide.
Getting Into London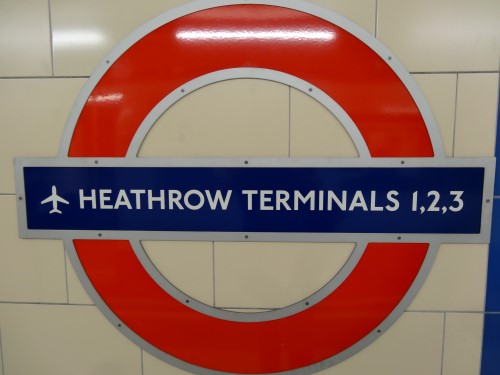 If you're coming from Canada, you will most likely arrive at Heathrow. Other possible options include Gatwick or Stansted airports.
If you land at Heathrow, you have a few options to get to central London. Most people opt for either the Heathrow Express (quick but expensive) or the tube (slow but cheap).
I generally just opt to take the tube as it's so much cheaper, but my parents prefer the Heathrow Express. Whatever you do, don't take a black cab either to or from the airport unless you want to end up spending £100+. For a full list of transportation options, read this.
Neither Gatwick nor Stansted are connected to the tube network, which means you'll need to take a train or a bus in order to get to central London. If using the train from Gatwick, pick a local train rather than the Gatwick Express as it takes only a few minutes longer but costs half the price.
Cheaper still is the EasyBus, which goes from Gatwick to West Brompton (not really that central but next to a tube station) or from Stansted to Baker Street station (actually pretty central). For more information for either airport, read this guide for Gatwick or this one for Stanstead.
Underground/Tube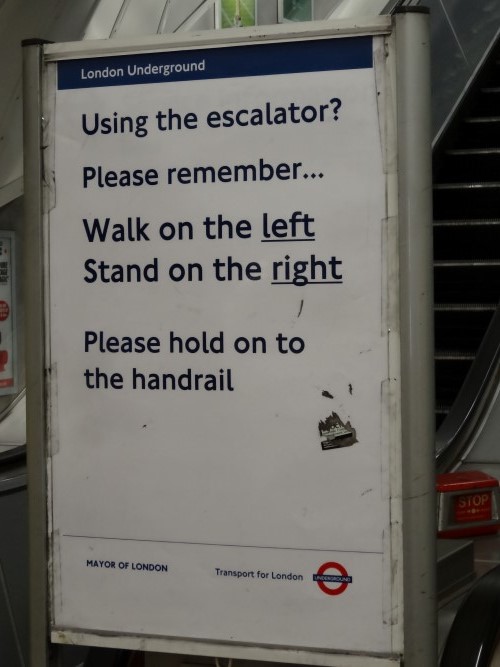 Once you have your Oyster, you'll be ready to use the tube. As mentioned above, avoid calling the tube a subway if you want people to understand what you're talking about. The network has 11 lines covering over 250 miles of track (nearly 400 miles if you try walking it above ground) and 270 stations. Pretty much all of the tourist attractions you're likely to want to see are accessible by tube.
If you're in London over a weekend, you may find that part of the network is closed as this is the only time they can do vital engineering work. The network is 151 years old and needs constant repairs. Just be sure to check the TFL website before starting off each morning, as the lines can also have problems during the week.
In general, there are a few unwritten rules for using the tube:
Stand on the right and walk on the left on all escalators. Not following this rule is perhaps the number one thing that tourists do to piss Londoners off.
Don't stop at the bottom/top of the escalator. Your friends and family are still right behind you like they were when you got on the escalator.
Wait for people to get off the train before trying to get on.
While waiting for people to get off the train make sure to stand on either side of the doors (not directly in front) so that other people can get off faster.
Don't wait until you get to the ticket gate to get your Oyster/ticket ready.
Don't ride the tube at rush hour if you can avoid it; it's busy and as a tourist you likely won't know where you're going and will just be taking up space.
Take off your backpack!
Don't talk to people on the tube and avoid eye contact at all costs.
Finally, while the tube network covers much of central London, it really only serves destinations north of the river. If you're staying in or visiting places in south London, you may have to use National Rail or the Overground (see below).
DLR (Docklands Light Railway)
Makes for a very nice alternative to the tube, use it if going to Greenwich.
The DLR is a separate network of driverless trains that serve the Docklands (e.g. Canary Wharf, Greenwich, etc.). These trains are clean, modern, and quick. However, be sure to tap in and out (look for the little yellow circles) when entering and leaving, as most DLR stations don't have ticket barriers. Be sure to sit at the front if you want to pretend that you're driving the train.
London Overground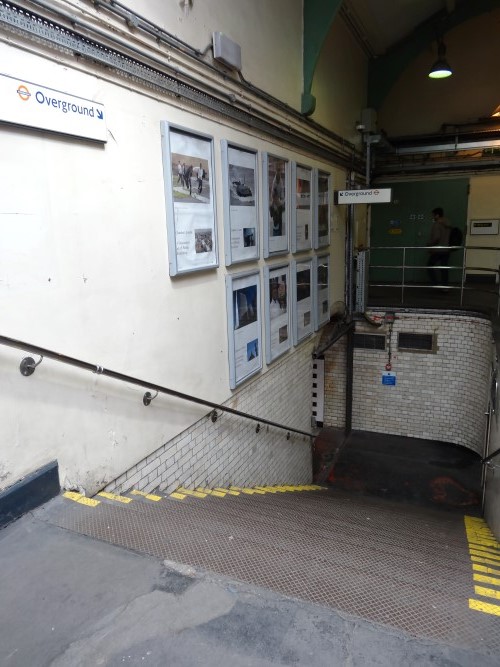 This is London's newest (and extremely popular) rail network. As the name implies, most of the routes are above ground and all but three stations are outside zone 1. The Overground serves many destinations not otherwise covered by the tube, but these are generally outside the main tourist areas so it's unlikely that you'll end up using it.
Confusingly, many people also refer to the trains run by National Rail as the "Overground" (as they too also run above ground), however, the two now technically refer to separate networks. (see below)
National Rail
Located in the City, Fenchurch Street is one of London's smallest rail terminals
London – and especially south London – still relies on national rail trains for much of its transportation needs. Fortunately, you can use your Oyster to pay for almost all train journeys within London. That said, be sure to check a map before starting your journey to make sure your destination is covered (e.g. the Heathrow Express is not).
Buses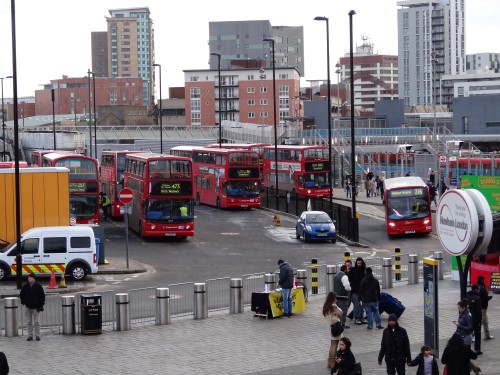 Buses actually carry more people than any other mode of transportation in London. Like in almost every other city, they are cheap and slow. However, getting on the top of a double-decker bus can be an inexpensive and easy way to see London from a slightly elevated vantage point.
Bus numbers 9 and 15 are two great ways to see the city because they are heritage routes and still use the original (and iconic) Routemaster buses. To see the new Routemaster in action, ride the number 24, which takes you from Trafalgar Square to Hampstead.
Drinking in London
On closer inspection that deal may not be as good as I originally thought
London pubs are my favourite places to go drinking anywhere in the world. Many of them date back several centuries, which is pretty neat considering that the oldest pub in Toronto dates from 1849.
English pubs work slightly differently than they do in Canada. Here are a few tips:
London pubs on the whole don't have table service unless you're in a dining room (usually upstairs and clearly marked as such). This means you have to go up to the bar to place all drink and food orders.
You usually pay for your order right away, with either cash or card. Most pubs will have a £10 card minimum (which I suspect is just to increase sales of crisps aka chips). Some will let you run a tab if you leave your card behind the bar.
You're not expected to tip at most pubs. Some people will round up to the next whole pound amount, but this is more the exception than the rule.
If you do tip, do not expect to be served faster than anyone else. A good pub will serve people in the order they arrive at the bar.
The English generally buy drinks in rounds. Basically, one person will buy a drink for everyone in a group, and then once those are done, the next person will buy drinks for everyone, etc. Generally speaking, it's a good idea to get into rounds only with people who drink comparably priced drinks at roughly the same pace. As the night wears on, the round system continues, but keeping track of whose round it is, who's in, who's out, etc. gets progressively more difficult.
If you'd prefer not to do rounds, just say so at the start of the night. People generally don't mind if you don't want to do it, but it's bad form to accept drinks without offering to buy some later on. However, this doesn't apply if it's people that you go out drinking with regularly and you can get them back next time.
When ordering food at the bar, they may ask for your table number which will be visible somewhere on the table you're sitting at. Alternatively, they may give you an object with a number on it (usually a spoon) so they can find you once your food is ready. Finally, really small pubs may just ask where you're sitting.
However, don't worry too much about this, because if you go out and drink with the English you generally won't be eating dinner anyway. Eating is cheating, as they say.
One myth that should be dispelled at this point is this: The English do not drink warm beer. Most pubs will serve lager, ale, and stout (usually Guinness). Lagers and Stouts are served cold, just like everywhere else, while ale is served at cellar temperature (cooler than room temperature but warmer than lager).
Ale comes in a whole host of different varieties and is usually served by a hand pump. These are usually the cheapest pints in a pub and also the most English. You'd miss out if you didn't at least give a few of them a try. To learn more visit CAMRA.
Besides London Pride (inoffensive but not particularly good) other ales that are widely available include: Doom Bar, Adnams (Broadside being my favourite), Tribute, Timothy Taylor's Landlord, Old Speckled Hen, Black Sheep & Bombardier (note pronounced differently than the Canadian Aerospace company).
You generally order beer by the pint or half-pint.
On average, beers in the UK have a lower alcohol content than those in Canada (4% here vs 5% there). Given how much the English generally drink, this is all for the best. Alcohol content is clearly displayed on all taps at a pub.
If you don't like beer, you can also order wine by the glass or bottle. Unlike in Canada, the prices for glasses/bottles of wine are usually not vastly more expensive than beer.
Cider is another popular alcoholic drink served at most UK pubs. It can be served as cold as lager or cellar cooled for real ciders. There are a couple of mass market brands, but my personal favourite is Aspall. Cider is traditionally made from apples, but these days you can find all sorts of ciders – though most are far too sweet for my liking. Pear cider is called perry.
Pubs also have a bunch of non-alcoholic drinks available, but in Central London they often cost almost as much as a pint.
A Few Good London Pubs: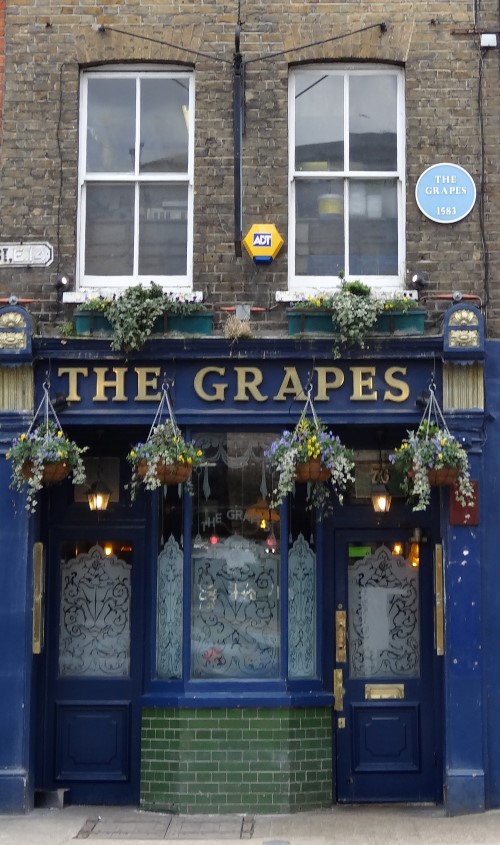 There is almost no point in writing anything about where to find good pubs since there are so many. I estimate that I've been to over 200, which may sound like a lot until you consider that there supposedly over 7,000 pubs in London.
Here are just a few that I think are worth a visit:
Ye Olde Cheshire Cheese: Dates back to just after the Great Fire of London in 1666. Very atmospheric pub that unfortunately is owned by Sam Smith's. Expect reasonably priced pints of mediocre beer.
The Harp: Probably my favourite central London pub. Amazing selection of real ale and located less than a five minute walk from Trafalgar Square.
Princess Louise: A great pub mainly for its Victorian interior. Like the Cheshire Cheese, it is owned by Sam Smith's, so OK beer for OK prices.
Bree Louise: Great real ale pub near Euston station. Go for the beer as the pub décor leaves something to be desired.
The Euston Tap/Cider Tap: Housed in the old gatehouses at Euston Station, these two pubs sit across the road from each other. The Euston Tap does real ale and the Cider Tap does real cider.
The Southampton Arms: Named real ale pub of the year by CAMRA (advocacy group for real ale), this is a very no nonsense pub. At one point you could only buy ales and ciders but I think now they have one lager on tap.
The Grapes: Pub dates back to 1583 and is now owned by Sir Ian McKellen. It's probably my favourite pub along the Thames, although Wapping/Limehouse does have a few other really good ones.
The George Inn: Right next to Borough Market, the George is another classic London pub. It's one of the last remaining coaching inns in the UK and a great place to grab a pint, especially in the summer.
Gordon's Wine Bar – Not a pub but an incredibly atmospheric wine bar. Sit inside for the full effect.
The Grafton: Included simply because it's the pub I visit most frequently. Friendly staff and good beer selection.
Beyond these there are many great sources of London pub information. Beer In The Evening is UK wide and has the largest number of pub reviews, TimeOut has their list of the 100 best bars and pubs in London but for a really useful guide I'd look at the Londonist's pub crawls section. Also available is the The Londonist Book Of London Pub Crawls Kindle book.
Clubs
My prediction: The Wembley North Conservative Club is going to be hot in 2014
Basically, I almost never go out to clubs so I'm probably the last person who should be writing about the subject. Both Ministry of Sound and Fabric are supposedly popular (I've been to neither). Beyond that, the general advice seems to be to stay away from the central London clubs around Leicester Square/Piccadilly Circus and head to Shoreditch or Dalston instead.
Cafes/Coffee Shops in London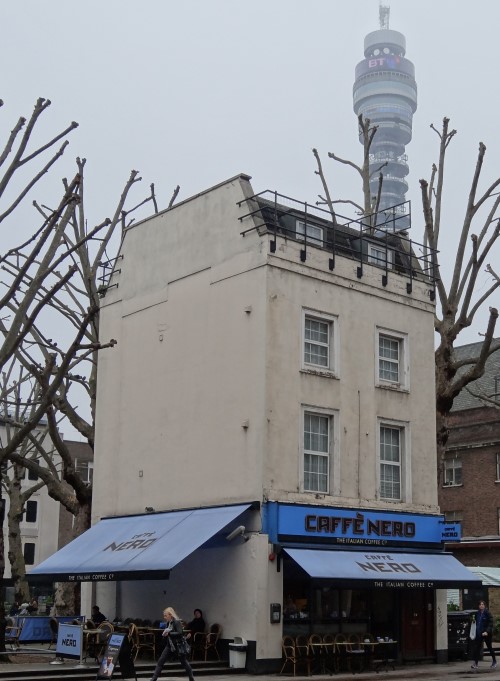 London has a huge number of independent cafés where you can grab a coffee, pastries, muffins, and sandwiches. These are generally pretty good and pretty cheap. While tea remains stereotypically popular in London, in the last decade or so, there has been an explosion in chain and independent coffee shops.
In addition to Starbucks, you'll also see UK chains like Caffe Nero, Costa, Paul's etc. They all serve pretty much the same things at roughly the same prices. Yet coffee is done slightly differently here compared to Canada or the US. Here are a few tips:
In the UK, unlike Canada or the US, almost all coffee is espresso-based. Starbucks and a few other places like Pret A Manger (see below) do offer regular drip coffee, which is called 'filter coffee' here. While not popular, it is usually cheaper than espresso-based drinks.
If you don't feel like going to Starbucks or Pret, the next closest thing to a standard North American coffee is an Americano, which is just watered-down espresso.
When you order your coffee, you can order it black or white, meaning whether you want your coffee with or without milk. You always add sugar on your own.
There are a whole bunch of great coffee drinks to try here, but if I had to pick one, I'd pick the flat white, which was introduced by Australian/Kiwi expats. I'm still not 100% sure what's in it, but I know they're usually really good (although slightly more expensive).
The London coffee scene has exploded in the last 5-10 years. While hipsters will say it's still not as good as elsewhere, there are tons of new places opening up all the time if you want to escape the chain trap. For the latest and best have a look at TimeOut's best cafés and coffee shops.
Eating In London
Given the fact I don't eat out much, and the fact that London's restaurants change rather quickly, I'm not the best person to discuss the trendiest or best restaurants in London. Nevertheless, there are a lot of chain restaurants that you may come across.
Here are my opinions on them:
Fast Food Chains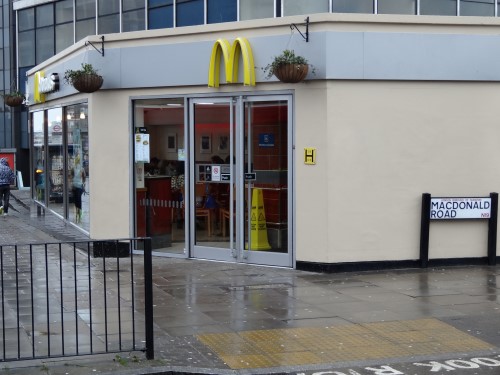 Note: Most places will have both an eat-in and a takeaway price. Generally, eat-in is about 10-20% more expensive than takeaway. In London, space is at a premium.
Pret A Manger (aka Pret) – These sandwich shops are everywhere and despite what Londoners say, they are actually pretty good. Well, at least their sandwiches and salads are pretty good… their coffee is awful.
Eat – Almost identical to Pret in terms of concept and quality. Nice for a change as they offer different sandwiches.
Wasabi – Similar to Eat and Pret except with Sushi instead of sandwiches. Good food at good prices.
Chicken Cottage – Chain of restaurants offering basic and cheap fried chicken. You may also see knockoffs with names like Dallas Fried Chicken, Mississippi Fried Chicken, etc.
International chains – Of course, you can also find McDonalds, Subway, KFC, Burger King, Pizza Hut, Chipotle, etc. all over London.
Sit-down Restaurants
Zizzi – Italian restaurant chain that offers decent food at decent prices. Been to several different locations and never had a bad meal.
Pizza Express – UK pizza chain that I think is over rated, but they're everywhere so they must be doing something right.
Nando's – Probably the closest thing the UK has to Tim Horton's in terms of inexplicable fanaticism. The concept is similar to Swiss Chalet except smaller portions, no dipping sauce and higher prices. Their chicken is still pretty good though.
Byron Burger – Good-quality burgers, but a little pricey. Somewhat annoyingly, your burger doesn't include a side. This means a burger and fries can easily cost £10-£15 per person.
Gourmet Burger Kitchen (GBK) – A more common chain of sit-down burger restaurants, but in my opinion, not quite as good as Byron. That said, they have more options than Byron and are a decent choice if you're looking for a place to eat. Again, all sides cost extra.
Note on tipping: at most restaurants you will be charged at 10-12.5% service charge. This is optional, but also serves as a tip. If you aren't charged a service charge (check the bill) it is normal to leave a 10% tip for sit-down meals.
Other Food Options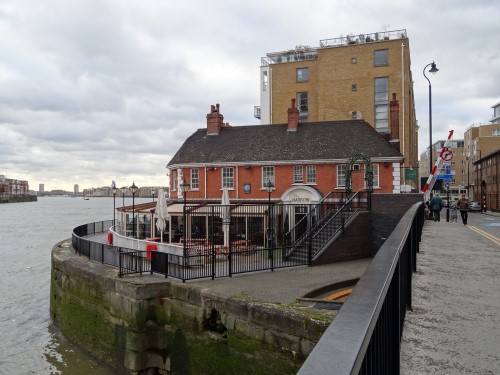 Pubs – Virtually all pubs in London serve food. Quality-wise, it ranges from mediocre to Michelin star level cooking. Many of the must-try foods below are best enjoyed in these establishments, so be sure to have a least one meal at a pub during your stay. Thai food pubs are also trendy; the most popular are the Churchill Arms in Notting Hill and the Pineapple in Kentish Town (though I've seen them all over London).
Tesco Express/Sainsbury's Local/Little Waitrose – These are all smaller versions of the UK's largest supermarket chains. Each offers meal deals, which are probably the cheapest way to grab a quick lunch.
Borough Market – The go-to place in London for all sorts of cuisines. Located next to London Bridge station, this place gets rammed on weekends. A large part of the market is outside, so try to go on a nice day, have a wander, and see what catches your eye.
Camden Market – In my mind, Camden Market is Borough's poor relation and I wouldn't go out of my way to eat there. But if you're in the area, there are a lot of options to choose from: anything from £5 hot dogs to perogies to kangaroo burgers to bibimbap and everything in between.
Must-try Foods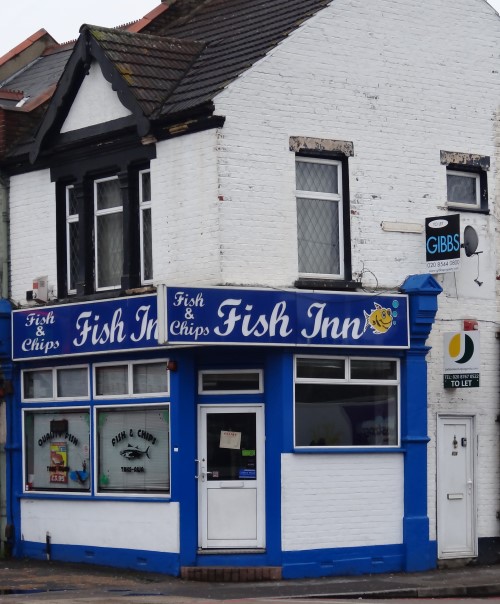 No trip to London would be complete without trying the following dishes:
Sunday roast: When done well, a Sunday roast is the best of British cuisine. At its core it's just meat, veg, gravy and a Yorkshire pudding, but there's nothing else like it anywhere. A good roast is worth travelling halfway across London for. Find one at your local pub or look at TimeOut's best Sunday lunches.
Full English breakfast (aka a fry-up): This is breakfast as it is supposed to be. Usually includes eggs, bacon, sausage, hash browns, toast, baked beans, warm tomatoes, and mushrooms. Scientifically proven to be the ultimate hangover cure. Find a local pub or cafe that offers one or have a look at TimeOut's best breakfasts.
Fish & Chips: Probably the best known of any British meal. Simple but tasty. Fish and chips can be hit or miss at pubs, so try to find a proper chippy (not as easy as it once was) TimeOut and About.com both have guides.
Meat pies: Another British classic. Usually just meat and potatoes served in a pie. Most pubs will have at least one pie on the menu or try Pieminister (I told you they like puns) for something a little different.
Cornish Pasty: A traditional pasty contain beef, swede (rutabaga), potatoes and onions in a pastry case. It is my favourite English food. And while technically not native to London (Cornish pasties originate in Cornwall) there are several big chains such as the West Cornwall Pasty Company and Cornish Bakehouse where you can find solid ones.
Kebab: Only to be consumed after a night of heavy drinking, and even then, only after 11 PM. They'll either come in a wrap or in a Styrofoam container; enjoy either way.
I've decided not to include curries on the list of things to eat in London not because they're unpopular, and not because they're bad, but because in my opinion I've had better ones in both Toronto and Ottawa than I've had here. The classic place to find curries is along Brick Lane if you'd like to give one a try.
Shopping in London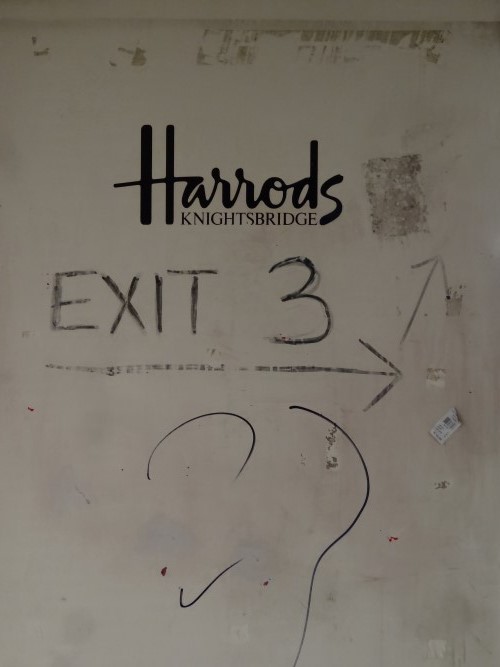 I hate shopping, so once again I'm probably not the best person to comment on this. However, there are a few places most people seem to want to go. The three must visit stores are: Harrods (Knightsbridge), Selfridges (Oxford Street) and Fortnum & Masons (Piccadilly).
Beyond that, popular shopping areas include the following:
Oxford Street: London's most popular shopping street and possibly the busiest shopping street in the world. I hate it, but if you want to shop in London, this is the place to go, just know that no true Londoner voluntarily walks along it.
Regent Street: This runs from Piccadilly Circus in the south to Oxford Circus in the north and is one of the nicest-looking shopping streets in the world. However, like Oxford Street, it is usually incredibly busy.
Carnaby Street: Runs parallel to Regent Street and has a bunch of designer shops.
King's Road, Chelsea: If you're looking for something a little more upmarket, this is the place to go.
Portobello Road Market: Perhaps London's most famous street market. Head to Notting Hill on a Saturday to the market in full swing.
Covent Garden: Apple has its flagship London store here and you can also find all sorts of other shops in the old market building.
Camden Markets: A series of markets that sell both food (see above) and all the tourist tat you could ever want. I personally don't see what all the fuss is about, but the enormous weekend crowds of 100,000+ people seem to feel differently.
Westfield: London now has two of these giant malls, one in west London (Shepherd's Bush) and one in the east (Stratford, next to the Olympic Stadium). For a generic North American-style shopping experience, head to either of these.
That's about it for this incomplete guide. For more reading I recommend buying:
London Street Atlas (A-Z Street Atlas S.) – Trust me if you don't have a phone with GPS (and even if you do), you need this or at least the mini one.
Other good books to get before coming include:
For other good online guides visit:
Londonist – The best London website full stop.
TimeOut London – For all the latest event listings, restaurant reviews, etc.
r/LONDON wiki – A London guide created by the r/London reddit community.
WikiTravel London – A pretty good guide to London.
If you've made it this far congratulations. You're either planning on coming to London and haven't found what you're looking for or more likely you live in London and take exception to something (or perhaps everything) I've written. In either case please leave your question or complaint below: