Most of us who live in London know that hotel room prices aren't cheap. However, since your average Londoner will never stay in a London hotel, most probably couldn't tell you how much an average one costs per night. At £1,000 a night the following hotels may come as a bit of a shock as they're probably not what you'd expect: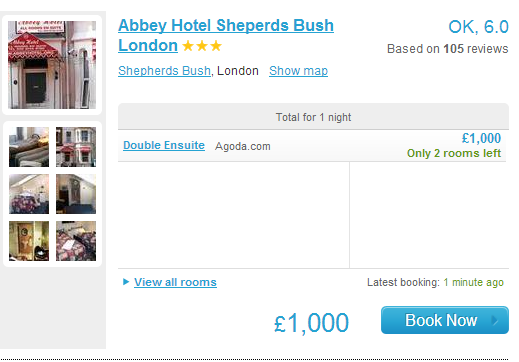 Photos:
Located in Shepherds Bush, the hotel is just a 10 minute walk to the BBC Television Centre – perfect for all your big name celebrities. Features include:
Air conditioned rooms
Cable/Satellite Channels
Private bathroom
TV
Telephone and closets in room
And you better be quick about booking a room, seems there's only 2 left and one was booked just a minute ago. The hotel gets a solid 6.0/10.0 rating meaning it's OK. To find out more about the Abbey Hotel Sheperds Bush London please click here.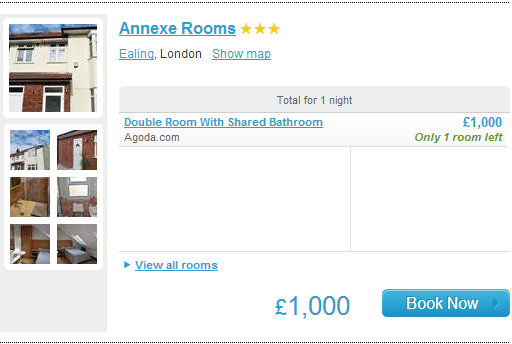 Photos:
Located in Ealing, it's not too difficult to get to the Earls Court Exhibition Centre and/or Turnham Green. And when you see the amenities I think you'll agree it's something special:
Shared Bathroom
Free Wi-Fi
Non-Smoking Rooms
Squash courts
Microwave
Again you better be quick about booking a room as there's just one left at £1,000 a night. Unfortunately, there don't seem to be any reviews of the hotel, but I'm sure you expect top notch service at that price. To find out more about the Annexe Rooms please click here.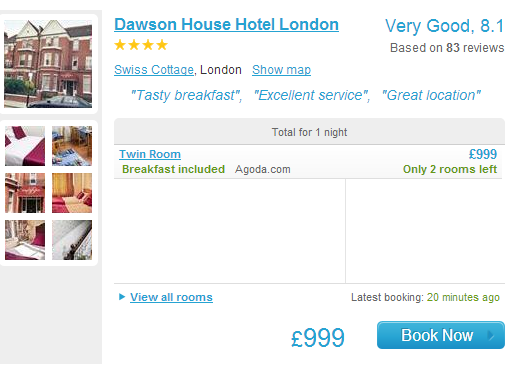 Photos:
The hotel is located about a 10 minute walk from either West Hampstead Tube station or South Hampstead Railway Station. Features include:
Restaurant
Private Bathroom
Coffee/Tea Maker
Hair Dryer
TV
Overall this hotel looks like the nicest of the bunch. However, is it really worth £999 a night? Consider you can stay at the Savoy the same night for only £383? To find out more about the Dawson House Hotel London click here.
Photos:
This bed & breakfast is situated within a 10 minute walk from Maryland Railway Station (where?). It includes the following features:
CD Player
Shared Bathroom
Non-Smoking Rooms
Hair Dryer
Family Room
Another feature of the hotel is that London Biggin Hill Airport (BQH) is under a 40-minute drive from the Olympic's B&B. This is handy if you plan to fly in by private jet. To find out more about the Olympic's B&B please click here.
What's going on?
First, I just want to make it clear that I'm not criticising any of the hotels listed above. I'm sure they're lovely places to stay, but realistically the pricing does seem a tad high. Nevertheless, I'm only trying to point out a bizarre pricing error, not have fun at anyone else's expense.
Your first though may be that I've photoshopped the booking pages above. I can assure you I haven't. If I did try to photoshop the prices it would look something like this: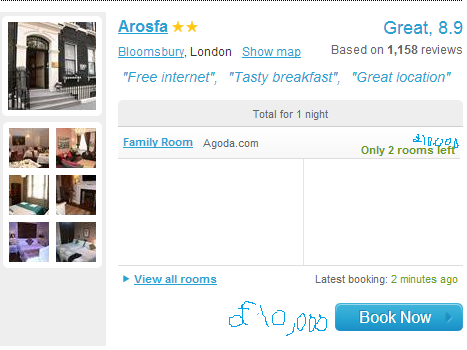 Instead I assume this is just an algorithm bug, somewhat similar to this one that was discovered on Amazon. This is reinforced by the fact that there are only 1 or 2 rooms left for each of these listings. Moreover, only one provider is listed as offering the rooms.
Methodology
Really not much to it. I'm always been a little curious about which London hotels are the most expensive. So I used Hotels Combined, my favourite hotel comparison site. It claims to compare the prices of hotels using hundreds of travel sites, but the actual number I've seen on any given search is usually much smaller (in the ones above only 1).
However, when I did a search for a one night stay between August 1, 2013 and August 2, 2013 – I got the strange results you see above. I did the search in early morning of January 30, 2013 and I expect the listings may no longer be there by the time you read this. If anyone can shed any more light on what's going on please leave a comment below.
Disclaimer: The links above to Hotels Combined are affiliate links. This means they will pay me a commission BUT only if you choose to book a room. I figure if anyone is crazy enough to book a £1,000 a night hotel room from here, I want a cut. Bandwidth isn't free. If you object to this please don't click the links.