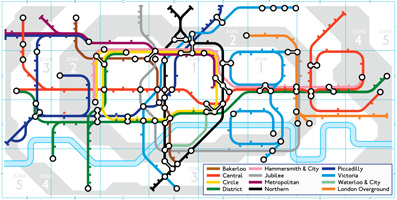 While the official grand opening of The Metropolitan Railway (the first bit of what would become the London Underground) occurred on January 9th, 1863 – it did not accept it's first fare paying customers until the 10th. Given that it's a means of mass transportation for the masses and the fact that our political elite wouldn't be caught dead using it on a regular basis – many (myself included) think the official 150th anniversary of the Tube should be today, not yesterday.
In any case if you celebrated it yesterday, today or more likely don't really care one way or the other you will no doubt have seen a huge amount written about it. Now given that I'm walking the tube network in support of Bowel Cancer UK, you might reasonably assume I'd have some sort of post ready for the momentous occasion. Alas, a move to a new flat and sporadic internet have meant that writing anything interesting has been difficult.
More importantly there is nothing really left to say. Below I've collected 150 websites/articles/books/etc. about the 150th anniversary of the Tube. They should provide you all the information you could possibly want about the London Underground.
Official
1. London Underground's 150th anniversary (TFL)
2. Transformation of the Tube network continues apace during historic 150th year (official press release)
3. TFL Facebook Timeline
4. 150th Anniversary of the London Underground (London Transport Museum)
From London Bloggers
5. Happy Birthday, London Underground (A View From The Mirror)
6. Happy 150th Birthday to The Tube (Shit London)
7. Mind the Maps: Celebrating 150 Years of the Tube (Mapping London)
8. Rather English – Celebrate 150 years of the Tube (Tired of London, Tired of Life)
9. Underground sesquicentennial! (Caroline's Miscellany)
10. Underground on film (Caroline's Miscellany)
11. TimeOut Tube Infographic (Annie Mole)
12. LU150: London Underground Past, Present & Future (Annie Mole)
13. 150 years of the London Underground (The Great Wen)
14. London Underground at 150: its past and future (Dave Hill)
15. Photos and Videos: Eye Candy Celebrating the London's Underground's 150 Anniversary
16. See how the Tube was built 150 years ago
17. LU150: A Birthday Steam Test (London Reconnections)
18. LU150: Steam On the Underground Timetable and Prices
19. Google celebrates the London Underground with a Doodle (IanVisits)
20. Best places to photograph London Underground's heritage steam train trips (IanVisits)
21. Diverting the Fleet River for the London Underground (IanVisits)
22. 150 – 150th anniversary celebrations (Diamond Geezer)
23. Happy 150th Birthday London Underground: 30 reasons we love the tube (TimeOut)
24. @tube_boob's ode to the Underground (TimeOut)
25. And don't forget the humble tube map's 80th birthday… (TimeOut)
Continue reading 150 Posts About The Tube At 150 – The London Underground Anniversary