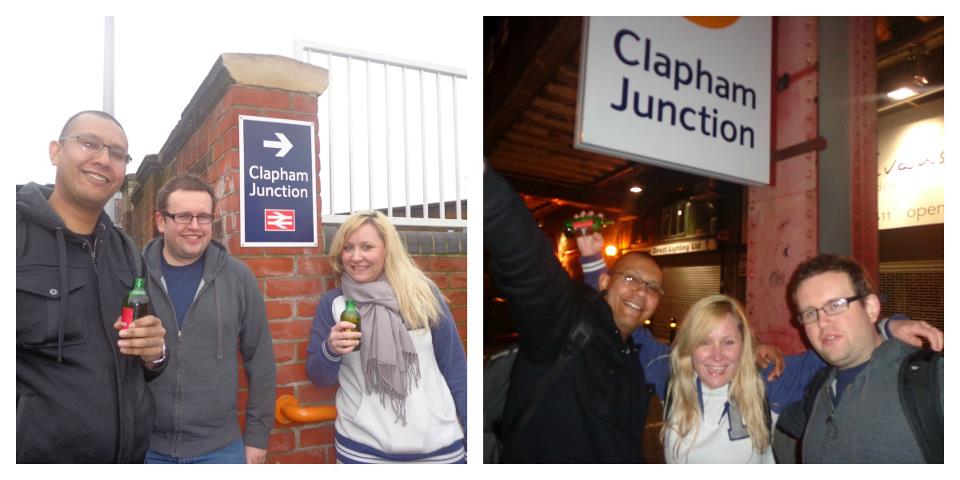 Warning: The following account is not a part of my tube walking. It in no way endorses binge drinking or drinking along the Overground. It was an experiment to see if it was possible. It was in no way endorsed, supported, condoned or even tolerated by the Overground network and/or Transport for London. We did it so you don't have to.
Well, it was bound to happen. Once the new Overground Circle opened on 9 December 2012, it was only a matter of time before some group of people attempted to outdo the Circle Line Pub Crawl using it instead. Turns out I was one of the first 3 people to complete it, on 16 February 2013.
So how does it compare to the Circle Line pub crawl? The Circle Line pub crawl goes through 27 stations, with 28 total stops, as you're supposed to have a drink back at the original starting location. The Overground Circle has 33 stations, and we decided to adopt the Circle Line convention and have a final drink back at the starting point for a total of 34.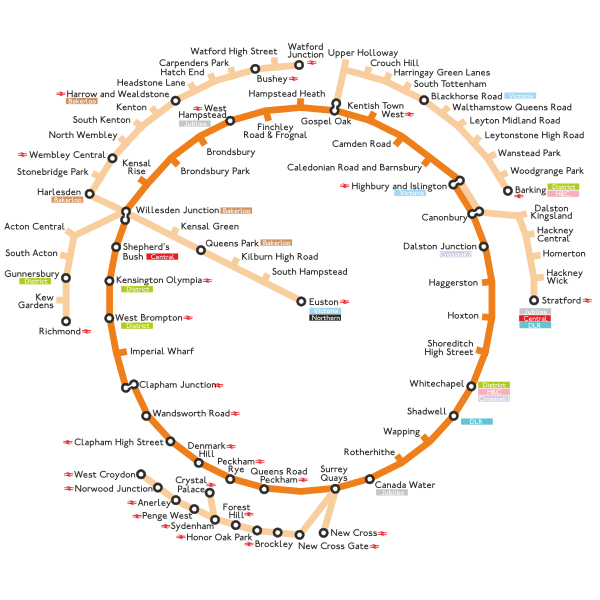 As a two time veteran of the Circle Line pub crawl, I can tell you it's just barely doable if you start before noon. For the Overground Circle I don't think there is anyway you could do it by starting that late, so we agreed to start at 9am.
Now this created a problem of it's own, because few pubs are open that early. The solution was simply to bring backpacks full of beer along with us and drink outside each station. This also solved the issue of trying to find a pub, as many of the stations on the Overground don't have one conveniently located close by. All other rules would be decided by majority vote as we went along.
The following is some of what I can remember of the crawl: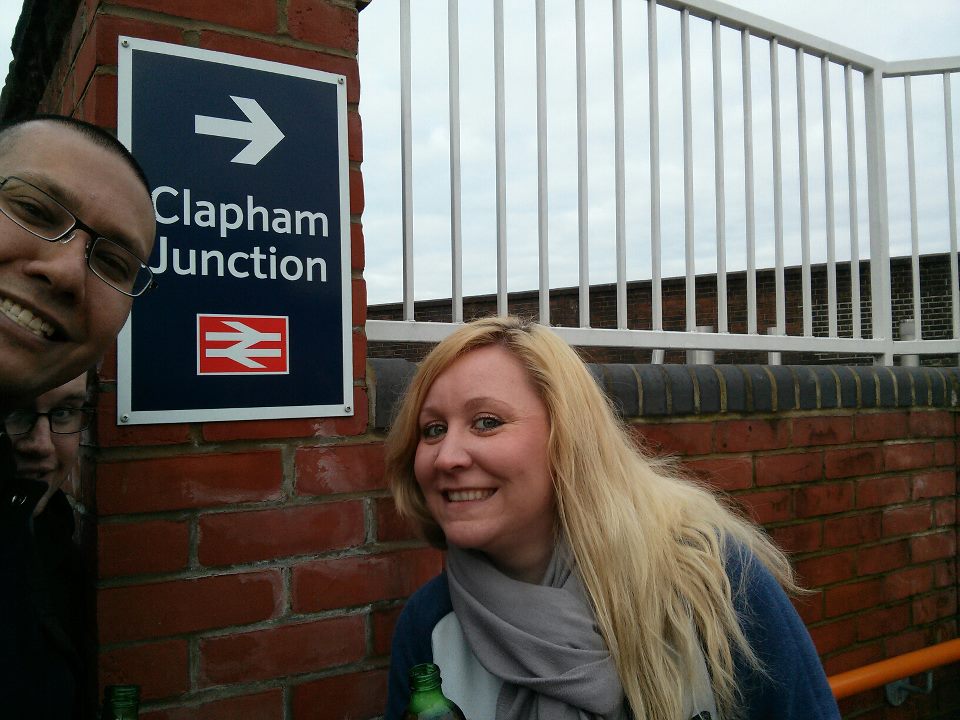 I met my two Aussie friends – Natalie and Brad – at Jack's at the Junction for a fry-up to line our stomachs before the upcoming onslaught of beer. After a little friendly banter from the cafe owner, we headed over to Clapham Junction Station – our first and final stop – and began drinking just after 9am.
My drink of choice was Beck's 4.8% lager in 275ml bottles. I brought 24 in a backpack which meant it was heavy, but would get lighter as the day progressed. This was a poor choice, due to the relatively high alcohol content.
Natalie made the same mistake with some sort of generic 4.8% lager from Sainsbury's, whereas Brad was the only with enough foresight to bring 2.6% beer (which tasted like water).
If you want to feel like you've made poor life decisions, I strongly suggest you try drinking on a street corner early in the morning. The whole thing just felt a bit wrong, but that didn't stop us from asking a passer-by (who looked like she was returning from the gym) to take our photo.
Beers done and we were off! We decided to go counter-clockwise and so visited the newest section of the line first. We quickly passed the first several stations, drinking our beer in 5 minutes when the trains only come every 15.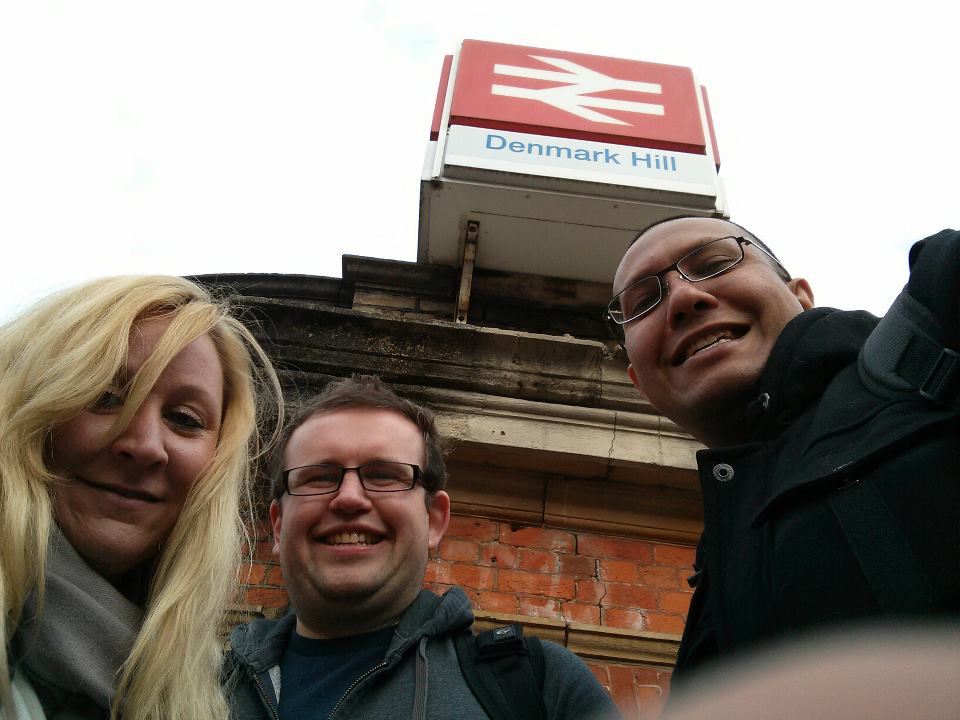 The original plan was to stop at pubs every 3rd or 4th stop. However, as we began so early, all the pubs were still closed. This meant no washroom breaks or glasses of water. By the time we reached Queens Road Peckham (6 stops in) we could all feel the beer's effects and decided to buy some water at the local Tesco.
At this point Brad decided that he would switch to drinking whisky. He claimed he was going to take swigs equivalent to a single shot. Natalie and I had our doubts, but drank our beer and water outside the station while the security guard inside the Tesco just laughed at us.
Once we reached Surrey Quays we voted on a new rule: we could walk between stations so long as we had a drink for each one. This allowed us to go into Surrey Quays mall for a desperately needed washroom break and in theory helped delay the inevitable drunkenness.
However, in practise I don't think it worked out too well as I have the distinct memory of turning into my tour guide persona and rambling on about Canada Water, while we drank on a park bench. Although, I don't think I droned on about the Thames Tunnel (the first known tunnel under a navigable river) when we crossed from the south to the north side of the river.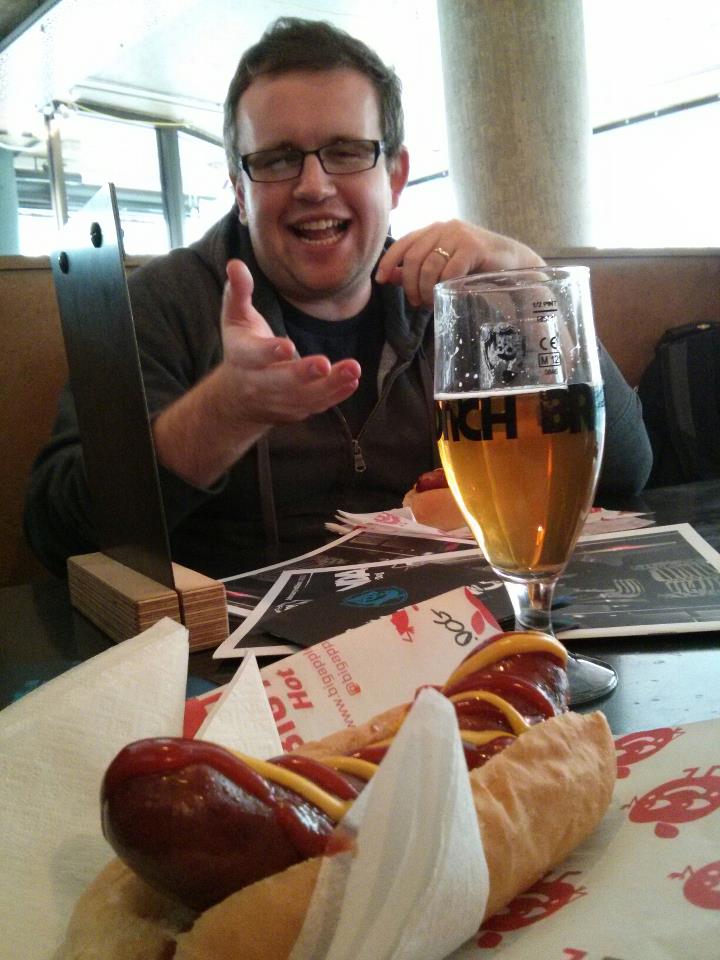 We drank at several more stations and then arrived at Shoreditch High Street in time for our first pub stop and a desperately needed lunch. Our destination was the Shoreditch Brew Dog for some halves and big hot dogs. The food tasted so good and was much needed. Staying would have been much easier, but with food in our stomachs I felt as though I had a bit of a second wind.
Good thing too as we passed through the heart of hipster London. Surprisingly few people were around – 2pm in the afternoon is still too early. At this point we'd been drinking for hours together and I'd been filled in on all the gossip from our group of friends. We carried on drinking in parks or outside the station if one wasn't on hand and started texting other people.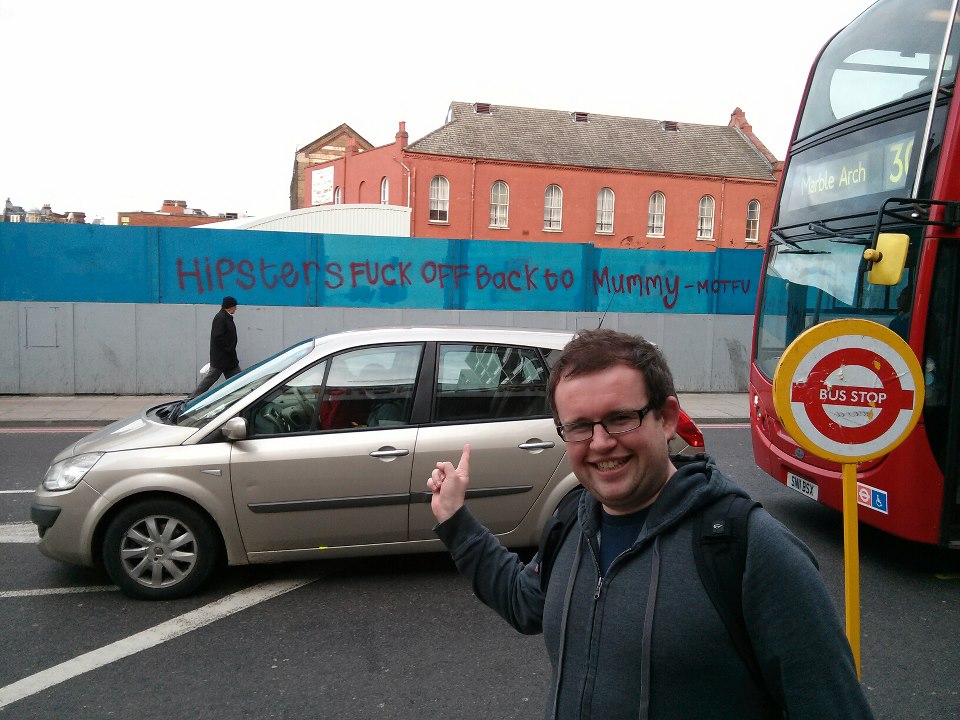 This turned out to be useful because we met up with Sheree, another Aussie and fellow two time Circle Line Pub Crawl veteran, and Natalie's flatmate Cara at the Famous Cock pub at Highbury & Islington. We'd already passed the halfway mark, but the addition of sober people at this point was crucial. It was becoming more and more of a chore to keep drinking, but we pressed on.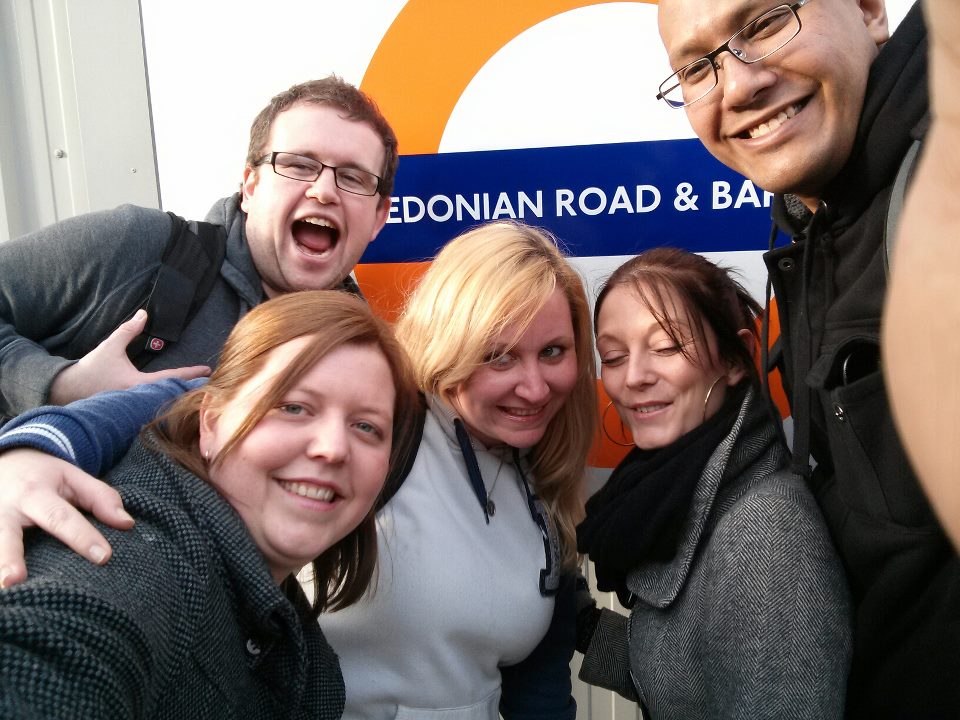 I have little memory of the conversations, but I'm sure they were very intellectual given that Brad, Natalie and myself had drank through 18 stops while Sheree and Cara had not. Several more stations came and went until the 5 of us reached Kentish Town West. I work around the corner from here and it was a little odd being on a ridiculous pub crawl and so close to work. Still that didn't slow us down from getting to the excellent Camden Town Brewery.
Brad and I made a final rule at this point where you could pre-drink an extra half-pint at the brewery and skip a stop later on. Both of us decided to do this. We left after we drank both our half-pints and got sandwiches for an early dinner. It was getting dark, but we continued.
From this point on my memory is somewhat hazy. I have no idea how well Brad and Natalie were doing, but as far I can remember they seemed to be doing fine. Here is a collection of random things I can remember: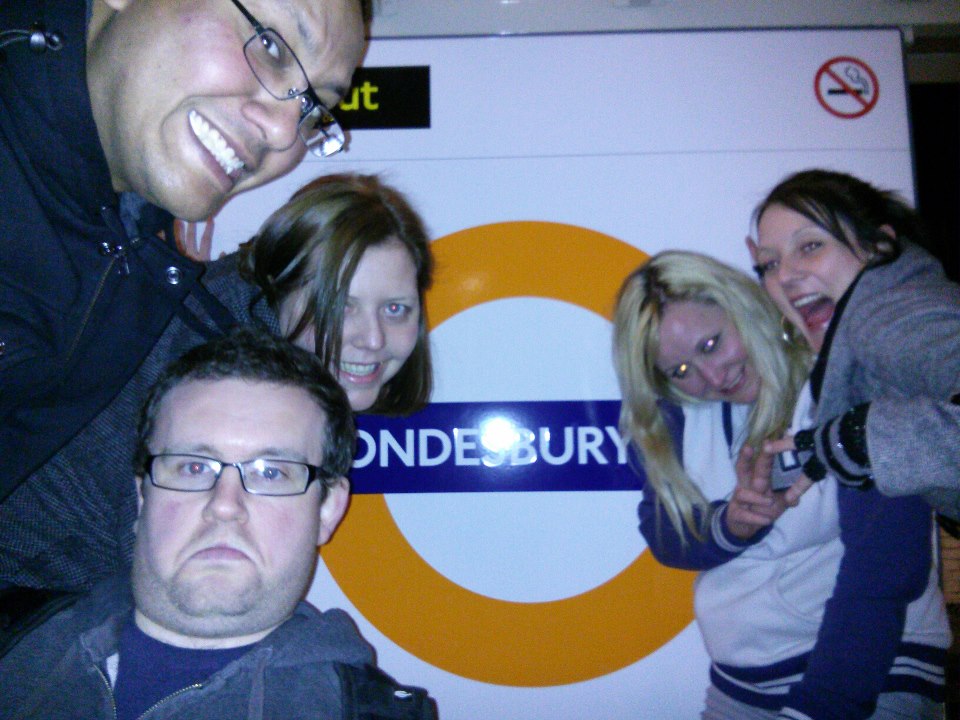 Soldiering on at Brondesbury.
Drinking outside Gospel Oak Station.
Drinking in a pub across a 4 lane road somewhere between Hampstead Heath and Willesden Junction (Google Street View can't seem to help me find the location)
Our Canadian friend Justin showing up at Shepherd's Bush. He was key to helping us all finish.
Drinking next to some Boris Bikes at Kensington Olympia.
Getting in a disagreement at Imperial Wharf where I assured the station attendant that I had topped up my Oyster. Turns out I forgot to touch in or out properly at a station between Shepherd's Bush and here.
Waking up at High Barnet, not sure how I got there.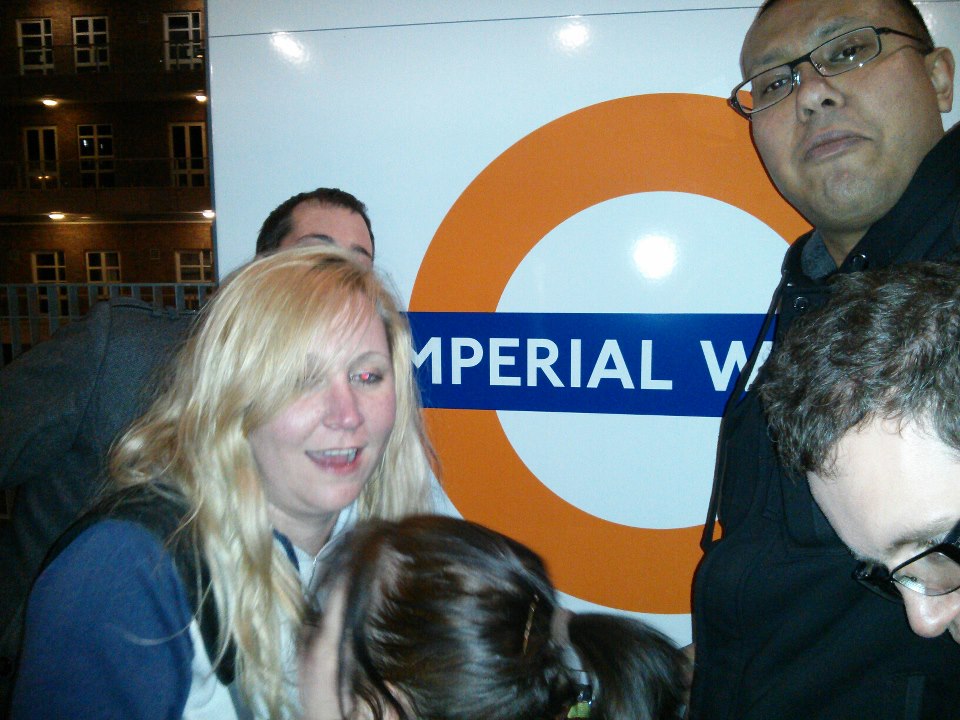 The "good" news is that I did indeed finish as the photo at the top shows. The rather sad part is that I only have the vaguest memory of it happening. Therein lies the nature of The Overground Circle Pub Crawl and other slightly shorter ones like the Circle Line and Monopoly Board.
They are tests of drinking endurance, nothing more, nothing less. A quick back of the envelope calculation shows that I consumed around 40 units of alcohol (over 12+ hours) which I'm sure did nothing to improve my health. I honestly don't remember what state Brad or Natalie were in, but I can't imagine they weren't much better.
If you're expecting some sort of life lesson to take away from this, I'm sorry to disappoint but there isn't one. We set-off to be the first ones in history to drink our way around the Overground Circle and we achieved that. Let history show that Brad, Natalie and Ian were the first three people to successfully complete the Overground Circle Pub Crawl!
Special thanks to Brad for doing the organising and Natalie for her company. I really enjoyed spending the time I remember with them. Also thanks to Sheree, Cara and Justin for helping us to finish the whole thing. Finally a huge thank you to all the Overground staff and passengers who we met throughout the day.
PS – For the time being I'm also the only person in London, and hence the world, who has completed the big 3 London pub crawls: Monopoly, Circle Line and now the Overground Circle. Neither Natalie nor Brad have completed the Circle Line crawl, although given their performance here I'm sure they could.