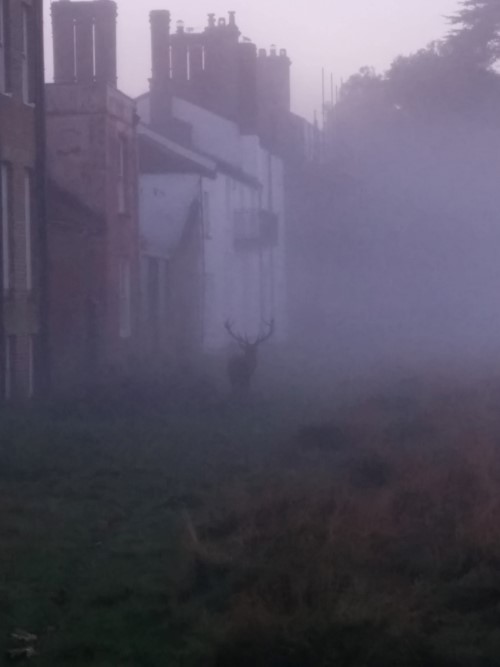 Of all the things I've seen on my many London walks, coming face to face with a stag in a very foggy Bushy Park, has to be the most unexpected and surreal.
I took the photo yesterday (November 15th, 2014) at the end of a 17 mile (27km) walk from Primrose Hill to Hampton Court via Richmond Park and Teddington. Most of the walk was less than thoroughly enjoyable given that it was raining off and on for most of it.
Moreover, I'd hoped to see some deer in Richmond Park, as I've yet to see them, but no such luck.
Fortunately, the rain stopped just as I entered Bushy Park at dusk. Plus, I noticed there were signs warning people about deer, so I thought maybe I would get my chance to see some after all.
All the rain and the quickly dropping temperature also meant that the whole park was covered in low level ground fog. A rather atmospheric way to end any walk, although still no deer in sight.
Now normally at the end of my walks I'm fairly tired and I make a beeline to the nearest station. However, just as I was about to leave the park I remembered a property listing I'd seen months earlier which showed a house backing right on to the park. Given that I'm not normally down in this part of London, I figured now was as good a time as any to make a quick detour, fog or no fog.
So I followed a rather small, muddy trail that runs behind a whole row of houses (see image below), all of which back directly on to the park. I mean how cool would it be to have Bushy park as your backyard?
At this point the fog was becoming much thicker and I could barely see 20 feet in front of me. So it was with some surprise that I found myself almost face to face with a stag, with what looked to me like rather large antlers.
Discretion being the better part of valour, meant that I decided to turn around rather abruptly and quickly walk back the way I'd come, all the while hoping that the stag wouldn't follow/chase me. This of course after I'd taken the time to get my phone out of my pocket and take a photo.
At times like this, I wish I'd brought a better camera with me, since the photo could be clearer. However, in reality I doubt I'd have taken the time to compose the perfect shot.
So that's how I came face to face with a stag in Bushy Park. The only thing that's even crazier to think about is that there are people who could wake up with deer right at their window on any given morning. How amazing would that be?
Below are a few other, far less interesting, photos of the fog in Bushy Park yesterday.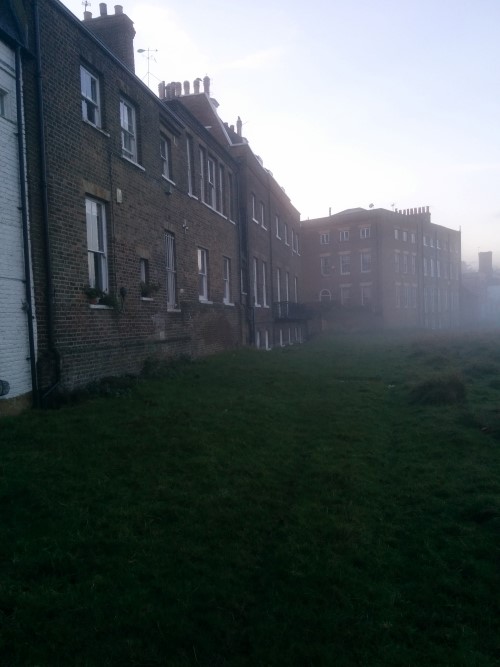 Houses backing onto Bushy Park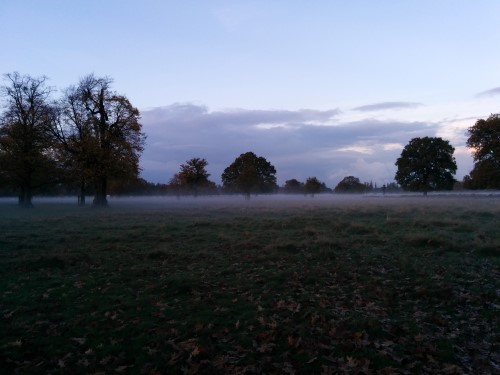 Low lying fog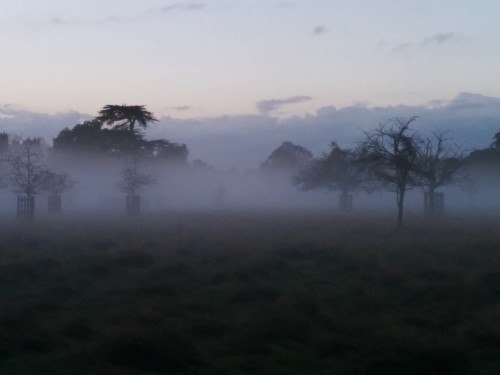 Trees in fog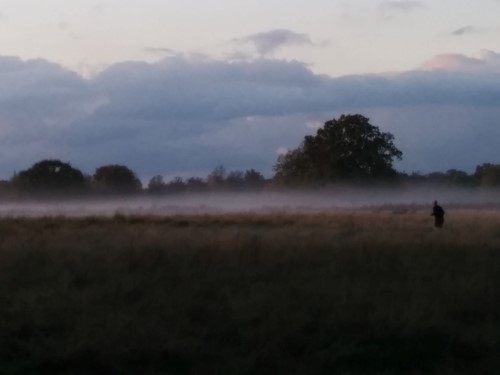 Lone jogger