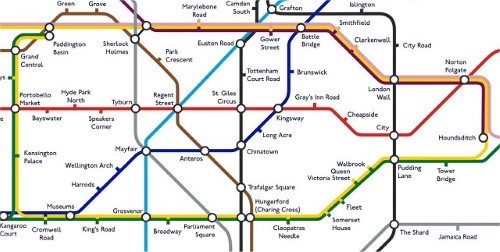 Click the map above for the full version
A few weeks ago, Tube Challenge World Record Holder, Geoff Marshall, came up with the brilliant idea of renaming all of London's 270 tube stations with other plausible names. He made the request via the Londonist, and I suspect got a few more responses than he was expecting.
He's now sifted through the more than 300 comments and distilled them into the map above. Having walked to all of them, I think he's done a pretty good job selecting the new names, although I do have a few disagreements. I made the following suggestions and am happy to see that several (in bold bellow) made the cut.
Bank -> Mansion House – Really disappointed he went with the more boring, but sensible, City.
Monument -> London Bridge – Pudding Lane is a decent choice, but I still like moving London Bridge north of the Thames.
Embankment -> Charing Cross – Hungerford (Charing Cross) is good but I think straight Charing Cross is better for historic reasons.
Charing Cross -> Trafalgar Square (or Strand)
Tower Hill -> Mark's Lane (Or Tower of London) – Tower Bridge is a good choice, I just like going with old names.
Holborn -> British Museum – Kingsway is a solid choice.
Chalk Farm -> Primrose Hill – Annoyed that this one didn't make the cut as it's my home station, Roundhouse is OK but Primrose Hill is far better known and has the added advantage of being the name of a nearby ghost station.
Moor Park -> Sandy Lodge
South Wimbledon -> North Morden – Although Morden does get renamed to North Morden
London Bridge -> Shard (or Borough Market)
Camden Town -> Camden Market – still think Camden Market is better than the more boring Camden Central.
Waterloo -> Royal Festival Hall (or London Eye) – Although neither of my suggestions made it, Southbank is a solid choice.
Westminster -> Houses of Parliament – Still think Houses of Parliament is better than Parliament Square.
Vauxhall -> MI6 – Albert Embankment is OK.
Canary Wharf -> One Canada Square
North Greenwich -> Thames Barrier – I like Blackwall South but not as much as Thames Barrier.
Stratford -> Queen Elizabeth Park – Olympic Park is the better name.
Upminster -> Windmill – Really pleased he picked this one.
Tottenham Hale or Blackhorse Road -> Walthamstow Reservoirs
Arsenal -> Emirates Stadium – Gillespie Road is the better (and more historic) choice.
Moorgate -> Finsbury Circus – London Wall is a good choice.
Farringdon -> Smithfield Market
Elephant & Castle -> Strata – Actually had to Google Newington Causeway.
Southwark -> Blackfriars Road
Pimlico -> Tate Britain
Sloan Square -> Chelsea – King's Road is more original.
South Ken -> Museums
Hyde Park Corner -> Aplsey House – Wellington Arch is a great choice.
Ladbroke Grove -> Portobello Road Market
Uxbridge -> Grand Union Canal – Colne is still a good water based name.
Warwick Ave. -> Little Venice
Neasden -> BAPS Shri Swaminarayan Mandir – Really surprised he didn't go with something based around the Temple.
Hillingdon -> Swakeleys
While I'm giving Geoff a bit of hard time here, I think he did a great job overall. With a task like this it's impossible to please everyone. Here are some of the other changes I really liked:
Russell Square -> Brunswick
Heathrow's stations -> Great West Aerodrome Central, East and West
Ickenham -> Glebe Avenue – I grew up in Ottawa's Glebe neighborhood, one block away from Glebe Avenue.
The movements of the Ruislip stations
Goldhawk Road -> Shepherd's Bush Market (moving one stop south)
Earl's Court -> Kangaroo Court
Kensington (Olympia) -> Exhibition
Brixton -> Electric Avenue
Lambeth North -> Bedlam – One of the best of the bunch
Kennington -> Newington Butts – Would likely become the new Cockfosters
Borough -> Marshalsea
Debden -> Bank of England
Walthamstow Central -> Walthamstow Dog Track
Hampstead -> Heath Street
Preston Road -> Kenton South
Warren Street -> Euston Road
Plus, so many others. However, South Camden doesn't have quite the same ring as Mornington Crescent for a game.
You can read more about the final version on the Londonist website.
Have any stations you'd like to see renamed? Leave a comment a below if you do, maybe we can convince Geoff to make a second alternative tube map.