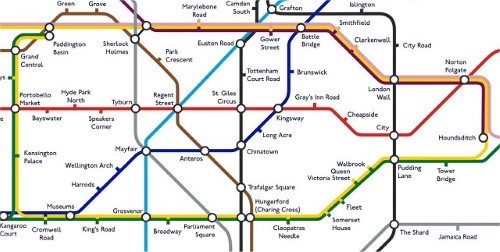 Click the map above for the full version
A few weeks ago, Tube Challenge World Record Holder, Geoff Marshall, came up with the brilliant idea of renaming all of London's 270 tube stations with other plausible names. He made the request via the Londonist, and I suspect got a few more responses than he was expecting.
He's now sifted through the more than 300 comments and distilled them into the map above. Having walked to all of them, I think he's done a pretty good job selecting the new names, although I do have a few disagreements. I made the following suggestions and am happy to see that several (in bold bellow) made the cut.
Continue reading Tube Stations Renamed – Plausible Alternatives For All 270