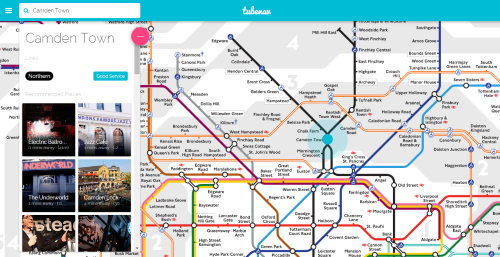 Seems every other day I publish another tube map. These can include anything from past London Underground Ghost Stations to What The Tube Map Could Look Like In 2050.
So when Daniel Botcherby, a former co-worker of mine, got in touch and said he'd created something different using the Tube map, I have to admit I was somewhat skeptical. However, Tubenav is actually really cool.
Basically, it claims to be the first fully interactive Tube Map, which you can use to find local businesses close to any of London's Underground stations. And yes, they've licensed the map from TFL.
I found using the web app relatively straightforward and it worked well for me on both my laptop and my mobile. All the stations I checked seemed to have listing; surprisingly even far flung ones such as Chesham (not even in London):
However, the web apps' real strength lies with listings in central London: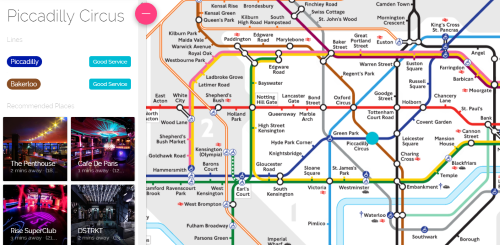 Since I'm a fan of both the Tube and entrepreneurship, I thought I'd let Daniel (Tubenav's COO) explain it in his own words. I sent him nine questions by e-mail and here are his responses:
1) Where did the idea for the app come from?
Well, it all started from the idea that there's a huge innovation gap we're seeing in the transport system. We've got hybrid buses, oyster cards, contactless payments, journey mapping api's with live transport information but we're still using the same static Tube Map! It's a fantastic design that we all know and love but we really wanted to do more with it!
2) Who should use the app?
I think if you're new to London or a tourist looking to get around the city – This app is for you. For tourists we can help you navigate to your hotel and get you used to that area with what's around you worth checking out.
When you start moving around the city, our web app lets you simply search for places you want to go to and how to get there and we even help you discover new and exciting things to do to get you used to the city.
3) Why use this app over other alternatives (e.g. Google Maps, Yelp, Foursquare, etc.)?
We are combining the best elements of Google Maps and Foursquare with the best discovery elements of Yelp, Timeout and Yplan! We have a superior directory of places than Google Places – with more relevant content and a far more user friendly experience. We've combined searching and navigating to a place within two clicks – so you don't have to bounce between all these apps that only serve one piece of the puzzle of how to get to somewhere!
4) Where are you getting you 'recommended places' data from?
We spent a year researching the best places in the capital and in addition to that we have 3 years of data from a previous venture. So this formed the basis of our recommended places – and with London changing as rapidly as we add the data, we've got a team of tastemakers with their ear to the ground so that we can be the real-time provider of what's going on in the city.
5) How is the app going to make money?
Right now our focus is to provide the best experience possible to our Tubenav community. We want to provide you, if you're new to London or even if you think you know-it-all, something of value and show you how exciting London is.
Just the other day I was invited to a break-dance event which was absolutely incredible but there was not nearly enough people as I would have imagined for the quality of the dancers, it's these kind of fresh events that go under the radar that we will be bringing to the forefront to highlight London's diverse cultural heritage.
6) When can we expect iPhone and Android versions of the app?
This is happening soon – we're currently raising funding through Seedrs to help us get to this stage and beyond. In the meantime our web app is fully optimised for your mobile phone and tablets.
7) Was it difficult/expensive to license the map from TFL?
Yes! TFL have a great team in charge of who they let and don't let use their map and we went through several stages of approval before we were even authorised to fully build our working prototype. We're a brand new case for them since we've built London's first fully interactive Tube Map, and we're proud to have that relationship.
8) What new features do you plan on adding in the future?
In line with our idea of making London Real-Time… we'll be launching something called 'Hot Spots' and these will be beacons flashing on the Tube Map that will alert you to the 'hottest' things happening in London and even some free giveaways! So definitely keep an eye out for that!
10) Anything else you'd like to add?
Well, if you liked the sound of what we're doing, join us on our journey and be a part of London's history by checking out our Seedrs campaign: https://www.seedrs.com/startups/tubenav And our web app: http://tubenav.com
You can also watch their promotional video here:
So what do you think of Tubenav? Feel free to leave your comments below: