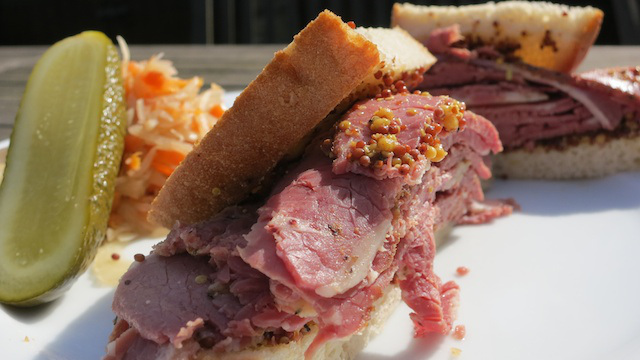 Regular readers will likely know that I'm both walking the Tube to raise money for Bowel Cancer UK and that I'm Canadian. What you likely don't know anything about is Montreal style smoked meat. Montreal Pastrami by Jacob Harrison and myself are looking to change that.
To find out what smoked meat is all about (if the picture above hasn't enticed you already) come to the Maple Leaf Pub in Covent Garden anytime after 1pm on Sunday Jan 20, 2013. Plus, he's generously offered to donate 50p from each sandwich sold to the cause.
What: Try smoked meat. To learn more about what smoked meat is and isn't read their Manifesto.
Where: Maple Leaf Pub in Covent Garden (41 Maiden Lane, Covent Garden, London WC2E 7LJ) -see map below
When After 1pmTickets go on sale at 12:30pm, meat will start being served at 12:30. Sunday Jan 20, 2013
Who: Myself, Montreal Pastrami and hopefully you!
Why: To try an amazing Canadian food that hasn't previously been available in London, while also supporting fundraising for Bowel Cancer UK.
View Larger Map