This post is part of my continuing series of walking the Overground & DLR, now that I've successfully walked the entire Tube network. The walks are in continued support of Bowel Cancer UK.
Euston is probably the ugliest mainline station in London, but at least it was a sunny day.
My second Overground outing was a somewhat ambitious trek from Euston all the way out to Watford Junction. I completed the 22.27 mile (35.84km) walk on a very sunny June 21st, 2014 in just under 7 hours.
A significant portion of line uses the same tracks as the Bakerloo line. This meant I ended up walking some of the same streets I had previously, although this time going in the opposite direction. In fact, until 1982, the Bakerloo line used to run all the way up to Watford Junction, which means this walk could also be considered a tube walk extension.
Here are just a few of the photos I took along the way. As always, I hope you enjoy!
My favourite Euston secret is this abandoned Leslie Green Northern Line station building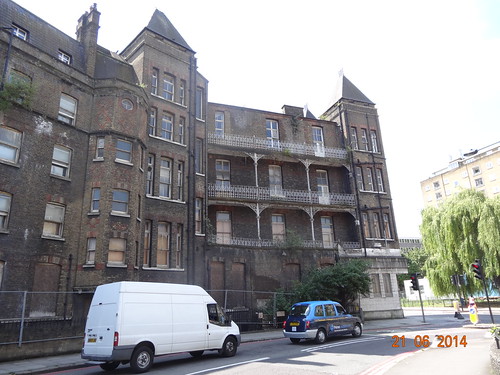 The Former National Temperance Hospital
Greater London House, formerly the Carreras Cigarette Factory
A familiar sight
Not what I expected to find in the backstreets of Camden
Dylan Thomas' former home
Overground track heading north
The Rotunda Building, Camden
Looks like a Banksy knockoff
The Pirate Castle
Mandatory Canal shot. LMS stands for London, Midland and Scottish Railway which used to own the goods yard where today's Camden Market stands.
The Stables housed and treated injured horses who worked moving goods off and onto the trains that used to call at Camden
The world famous Roundhouse
Art at the top of the Roundhouse
Another familiar sight
Former Primrose Hill Station, which annoyingly for me no longer exists
Unfortunately, I couldn't get a clear shot of the ornamental stonework at the mouth of the Primrose Hill Tunnel
Ventilation shaft for the Jubilee and Metropolitan lines
I finally make it to the second station on the line. If you follow the line as closely as possible, the walk is about 2.7 miles, one of the longer distances between stations in Central London
The Alexandra and Ainsworth Estate
The back of the Alexandra and Ainsworth Estate
Some interesting "street-art" in Kilburn
Another candidate for London's ugliest station. Queen's Park is also where I begin following the Bakerloo line
The back of the phone booth I used for the cover photo of my Bakerloo line walk
Still say this station looks like a barn
Another visit to Tubbs Road Pocket Park
World Cup time
My favourite random sign of the day
Didn't expect to find a Windrush Road this far north in London
Grim looking empty market at the base of the former Unisys Towers
River Brent
Wonder how long before they change this signage?
Argenta House, opposite Stonebridge Park station
Secret entrance along a shaded footpath
Lots of tracks
Wembley
Wembley Central Station under extensive renovation
Amazingly, this pub with tenuous Canadian connections has still not been redeveloped since the last time I was here.
Wembley really dominates the skyline of North London
My favourite Bakerloo line station
Harrow Central Mosque
The kings and queens of Britain
Harrow & Wealdston station seems to be missing a few letters. This is the end of the Barkerloo line, but I still had further to walk
Ghost sign
This pub has seen better days
Letchford House
Hatch End station has possibly the nicest exterior of any station along the line
It even once had a dedicated parcel office
Still further north to go
The pavement suddenly ended and it was time to go cross-country
You know you're out of Central London when you have to use a stile to cross a field…
…full of horses
Another clue I'd left London was that the buses were no longer being run by TFL
This might also have been a clue
Love this name
St Matthews Church, Bushey
Bushey Station
Who doesn't love a railway viaduct? This one is located in The Dell.
The River Colne
Watford High Street Station
It was then just a short walk to the final stop of Watford Junction
This walk was even more enjoyable than my last one. It had all the elements I look for in a great walk: good weather, interesting sights and a little bit of the unexpected. This was especially good as I ended up spending a fair bit of time in areas I'd already walked through before.
The three most surprising lessons I learned from this walk were the following:
You can never predict when you'll end up walking through a field full of horses.
That Watford, while outside of London, is still within the M25. I kept expecting to cross over or under it at some point (as I did during my Metropolitan and Central line walks) but never did.
You can get from Watford Junction to Euston in just 17 minutes if you catch the non-stop train. This made my nearly 7 hour walk seem somewhat less impressive.
You can read all of my Tube, Overground & DLR walking related posts on my Walking the Tube page and you can donate to help support Bowel Cancer UK here. Finally, I'd leave to hear your thoughts on the walk so please leave your comments below: