Click on map for a readable version
The map above was created by reddit user midandfeed and is an attempt to show what the tube map might look like with Crossrail and the new Overground routes added in. I think it's a great attempt to solve a rather difficult issue.
While it adds a lot of extra useful information, it comes somewhat at the expense of readability. I'm not sure how TFL is going to solve the issue of putting ever more lines onto the tube map. It's difficult to see how it will end up being much different from the one above.
Yet, as with all tube maps, geographical accuracy is sacrificed for improved readability. One example, pointed out on reddit, is that Willesden Junction and North Acton look very far apart, but are in reality are only about a mile away from each other.
Another minor issue is that the Croxley Rail Link is not included. This will open before Crossrail and so should be there. The Northern Line extension to Battersea is also not included, but is likely to open after Crossrail.
Here are some slightly enlarged views of the map: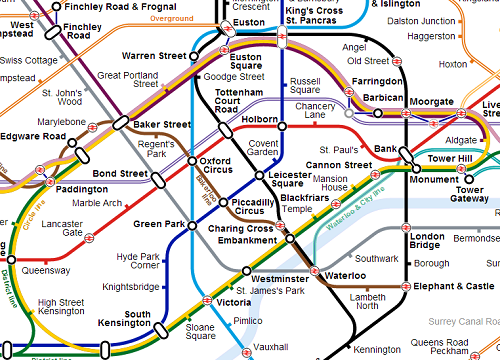 View of central London. Notice the new interchanges between Farringdon and Barbican or Moorgate and Liverpool Street. The Waterloo & City line is also more geographically accurate than the current map.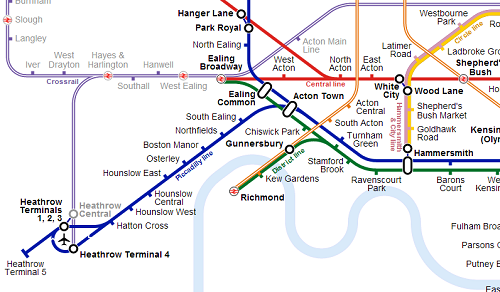 View of how Crossrail will look at Heathrow. I'm not sure about the name, as the Crossrail website lists the name of the station as Heathrow T1, 2, 3 and not Heathrow Central (which is an existing station). Also nice to see the out of station interchange between Hanger Lane and Park Royal.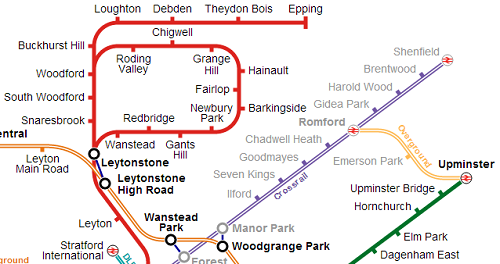 View of the map in East London. Especially like the 3 stop line between Upminster and Romford. On this map it actually looks useful. Also a few interesting out of station interchanges.

Finally, the new Overground lines in North London. Should be a vast improvement for people living in those areas.
So what do you think of this as a potential map? Notice any glaring problems or omissions? If so let me know in the comment section below:
Please Note: The Tube Map is copyrighted by Transport for London (TFL). The map above was not created by TFL and is an unofficial creation. I also did not create the map but am using it from Wikimedia Commons Creative Commons Attribution-Share Alike 4.0 International license.