The last 48 hours have been interesting for me and this blog. It all started with this post: What Are The Best Things To Do In London That No One Knows About?.
The post is just a collection of the best responses from this reddit thread by cr3 and has been online for well over a year.
The responses are the best form of satire, utterly ridiculous but yet believable enough that you could see someone being fooled by them. British humour at its finest.
Until 2 days ago, the post only received around 300 visitors a month. I'd never given the post much though after it went live; assuming anyone who visited the page would realise it was satire, hopefully have a laugh and then go elsewhere. However, it seems not everyone took it in the spirit which it was intended.
One suggestion in particular seemed to cause some confusion:
Keep it to yourself, but you can get a free cocktail at the bar at the top of the OXO tower if you take ten wrappers from OXO cubes with you. OXO cubes are about £3 a pack and are useful in cooking anyway; everyone's a winner!

You get a different cocktail depending on the wrapper type – beef is different to vegetable stock for example. They rotate these choices weekly but they're all pretty cheap cocktails, don't expect too much.
On it's own, the above borders on plausible. However within the context of the whole post, I'd assume most people would realise it was in no way meant to be serious.
So it was with some surprise that I received the following message on twitter:
I then followed up with:
And it given the above you won't be surprised by their final response:
Before I continue, I just want to make it really clear that whoever runs the Oxo Tower's twitter account was extremely patient and polite in the face of my rather obtuse responses.
As a result of a customer not understanding the humour of an old blog post, I'm sure they were asked to go get the offending section taken down. Then after contacting me, I play dumb to try and draw out the joke a little longer. So fair play to them for keeping a level head throughout.
I've only been to the Oxo Tower Bar & Restaurant once, but I found the food, drinks, service and views to be among the best in London. If you haven't been before, I'd highly recommend it, just leave the Oxo cube wrappers at home!
Now since the original suggestions and post idea came from reddit, I thought some people there might also see the humour in this situation. So I wrote this post 2 days ago.
Somewhat unexpectedly, the post made it to the top of r/London, a subreddit with around 34,000 subscribers. I've been lucky enough to have a few of my other posts, such as my serious Things To Do in London and Moving to London guides make it to the top before.
Generally speaking, if you make it to the top of r/London you can expect to see a traffic spike of between 1,500 – 2,000 visitors over the course of about 24 hours. Most shared hosting accounts can handle this sort of traffic spike and so far Hostgator, which I use for this site, has manged to keep up each and every time.
However, as Upworthy would say, you won't believe what happened next…
The post was submitted to r/BestOf, which has 4.7 million subscribers or over 100X more than r/London.
I braced myself for a deluge of traffic, not really sure if Hostgator could handle it. Fortunately, I've had one similar run-in with a massive traffic spike in the past.
At the start of the year, this post: Disused Tube Stations Mapped got a huge surge of traffic because the BBC linked to this Us vs Th3m, which in turn linked to me.
In total, I received over 18,000 visits to that post in 2 days and it temporarily brought my hosting down for 3-4 hours, right when traffic would have been at its highest. The one lesson I learned, is that you need to use a caching plugin to reduce server load. I've used one ever since, but have never had to put the site to the test, until now.
The site hit the top of r/BestOf just as people were waking up on the East Coast of America and caused my server CPU usage to look like this: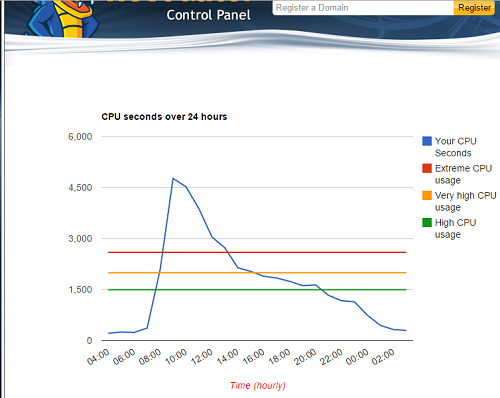 When checking analytics, this translated into over 750 people simultaneously on the site at the same time at some points. While I know some people did experience errors when trying to access the site, the servers never went down. So kudos to Hostgator for handling all the traffic.
As of me writing this, the blog post that started it all, has received 59,815 visits in the last 48 hours! Which makes analytics look like this:

Crazier still, when I look at the Imgur stats, they report that over 113,000 people have viewed at least one of the screenshots above. Thus, I assume at least that many will have read the reddit post. It's a bit nuts to think that that many people have read something I wrote.
Furthermore, it's now the 212th highest rated post of all-time in r/Bestof and the highest rated post of all-time in r/London.

Incredible and unbelievable.
I just want to give a massive thank you to everyone on reddit who upvoted and commented on the two reddit posts, you can read all the amazing comments from r/London here and r/Bestof here. And of course an extra special thank you to Cr3, without whom none of this would have happened.
Finally, while I haven't contacted the Oxo Tower restaurant before publishing this post, I will reach out to them after. I hope they can see the humour in all of this as they've been so polite so far.
Who knows maybe they could even turn this to their advantage. Perhaps a happy-hour special along the lines of buy one cocktail, get the second free when you bring in 10 Oxo cube wrappers?
Update 2/11: Reddit user torakamikaze has even created a mock-up of what this promo could look like here. Here's a second design by user rugbyj. And a third by user duudass.