This post is part of my continuing series of walking the Overground & DLR now that I've successfully walked the entire Tube network. The walks are in continued support of Bowel Cancer UK.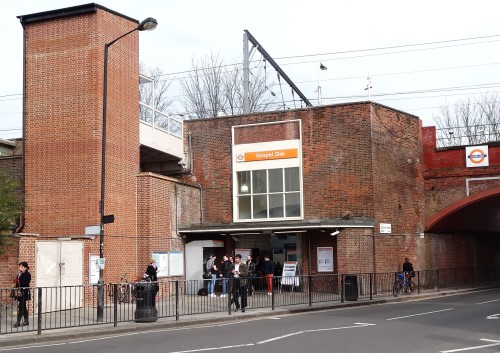 The somewhat randomly located Gospel Oak station was the starting point for my walk
On March 8th, 2014 I completed the first of my Overground & DLR walks by walking from Gospel Oak to Barking. Unlike my previous Tube walks there is no rhyme or reason to the order in which I'll walk them. I started with Gospel Oak simply because it's within walking distance of my flat.
Overall, the walk was just over 17 miles (27.4 km) and took a little over five and a half hours. This gave me an average walking speed of just over 3 miles per hour. Not terribly fast, but better than what I averaged walking the Tube. It was a beautiful sunny day so I took a few photos along the way. Hope you enjoy:
This ghost sign near Archway was the first of many along the route
Love old postboxes like this one built into the wall at Upper Holloway station
Looks to be a former corner shop turned into a home
(that or they really like Typhoo Tea)
Nice monkey themed mural I happened to walk by near Crouch Hill
The first former pub I see along my route
While it may look like a rail bridge, it actually caries The Parkland Walk.
London's far less famous equivalent to The High Line
The New River, which in true London fashion is 401 years old
Deserted section of the New River you can walk along near Harringay Green Lanes
Looking back up at North London from the New River
For some reason I didn't pass a single other person while walking along the New River, may have had something to do with the mud
Perfect example of London's constantly changing demographics: a former patisserie is now an Angolan restaurant
Must be entering Tottenham…
Another former pub, this one in Tottenham
River Lea at Tottenham Hale
Love when bus stops are named after pubs
The closest I got to the Overground tracks. Hiding behind the tree is a reservoir
Overground train
This place looks in worse shape then when I was last there in 2012
Two more Ghost signs, these ones in Walthamstow
I don't know what that this is supposed to mean…
This was one of the those amazingly well timed shots. While you probably can't see it at this resolution, I took the photo just as a fox ran in front of me at Walthamstow Cemetery (click on the image for a full resolution version)
A bit of a sad state of affairs in Leyton, a betting shop is located on the ground floor of a community place
One of the more random pub names I've seen
Located under Leyton Midland Road station are several small businesses
A rather random door in the wall…
Greenwhich prime meridian in Leyton
The A12 with surprisingly few vehicles
Feel like I've seen this name somewhere before…
Former pub in Leytonestone
The Wandstead Flats were incredibly unexpected. Will definitely come back to have a longer look around at some point in the future.
One of the many railway arches that support the Overground
Arc Radical Church
While Woodgrange Park is the penultimate stop on the line, it was a very long walk between it and Barking due to the North Circular and River Roding
Hope their pizza is better than their spelling
A punny name for a business
The Road to Barking goes through East Ham
Looks pretty analog to me, but I'm no expert
Gasometer with the loneliest goal post in London
Field next to the North Circular with horses
Barking Abbey is perhaps the only reason to come to Barking…
Although Barking Town Hall is a pretty beautiful building as well…
Which quite frankly is more than can be said about the station
While walking the Overground doesn't bring you through the most iconic or famous parts of London, it's still very enjoyable. An added bonus is that for the most part, you don't have to deal with crowds of people.
I also enjoyed it as I got rewalk three portions of previous walks (Victoria, Hammersmith & City and District lines), along with cutting across 3 other walks (Northern, Piccadilly and Central lines). Something both new and well known.
You can read all my Tube, Overground & DLR walking related posts on my Tube Challenge page.
If you have any questions or comments about this or any other walks I've done please leave them in the comment section below.