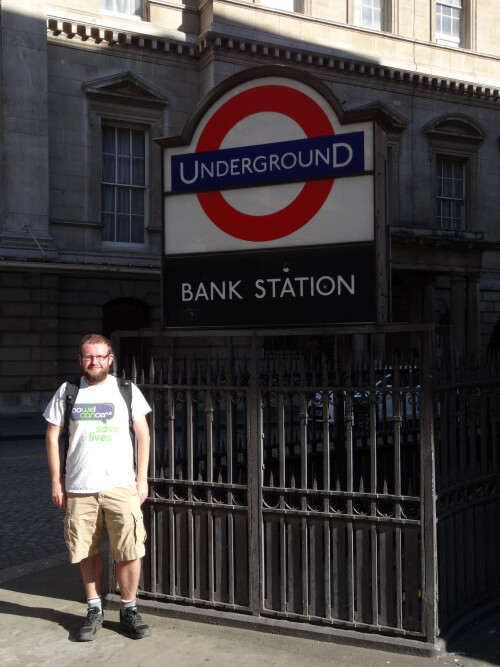 Me at Bank after finishing my final walk. This also happened to be where my first walk ended 3 years ago.
On Sunday, August 9th, 2015, I became the first person to walk the entire new 2015 Tube Map. This includes not only the London Underground (completed two years ago) but also the Overground, DLR, TFL Rail and yes the Cable Car (I walked via Woolwich rather than attempt to swim the Thames).
In total, I walked 632.45 miles (1,017.82 km) over the course of 39 walks that collectively took 229 hours and 47 mins of my life. I also managed to raise £1,803.43 for Bowel Cancer UK.
Below are a few stats from my various walks, followed by a few random thoughts on the whole journey and finally a complete summary of my walks if you'd like to follow in my footsteps:
Total distance walked: 632.45 miles (1,017.82 km) – almost as far as London to Nice and further than the Land's End to John o' Groats as the crow flies.
Time spent walking: 229 hours and 47 (about 9.5 days!)
Number of walks: 39 (full list at the bottom)
Shortest walk: Waterloo & City line: Waterloo to Bank – 1.6 miles (2.6 km)
Longest walk: Overground Circle: Kentish Town West to Kentish Town West – 34.48 miles (55.49km)
Average walking speed: 2.75 miles/hr
Average walk length: 16.22 miles (26.1 km)
Average walk duration: 5 hours and 54 minutes
Tube line walking distance: 394.3 miles (634.56 km)
Overground walking distance: 149.57 miles (240.71 km)
DLR walking distance: 57.68 miles (92.83 km)
TFL Rail walking distance: 24.68 miles (39.72 km)
Cable Car walking distance: 6.22 miles (10.01 km) – Walked not swam via Woolwich foot tunnel
Most frequently visited stations: Liverpool Street (7 walks), Stratford (7 walks), Bank-Monument (7 walks), King's Cross-St. Pancras (6 walks), Baker Street (5 walks), Canning Town (5 walks), and West Ham (5 walks)
Tube Map in August 2012 when I started: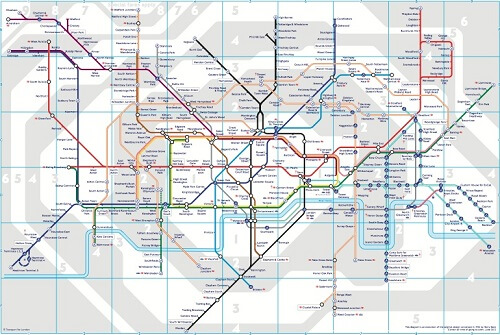 New 2015 Tube Map:
As you likely can't read either map above, there are quite a few differences. First the Overground became a second circle line (extension from Surrey Quays to Clapham Junction; Also completed as a pub crawl) at the end of 2012.
Then a few months ago 3 new Overground lines, along with TFL rail were added. The end result is that I ended up walking roughly an extra 100 miles more than I would have if the map had stayed the way it was back in 2012.
A few thoughts on finishing: When I finished walking the tube 2 years ago, I felt that while I'd achieved something few people would bother to do, I still hadn't seen huge sections of London.
Over the course of my walks during the last 2 years, I've walked to even more remote parts of London, out past the M25 3 more times and even walked to a second London airport. Yet, while I feel I have a much better sense of London north of the Thames, most of my new walks didn't take me very far south.
Thus, I still feel as though I have large gaps in my local London knowledge, which is not just confined to areas south of the river.
For example, I recently started a new job located in Angel, an area not too far from where I live, and one I've passed through while walking the tube and several more times while walking the Regent's Canal (the best walk in London IMHO).
But as I go out for short walks at lunch time, I've found that there's far more to discover about the area than I originally thought. And, I suspect that I'd find this to be true for the vast majority of the areas I've just walked through once or twice during the past 3 years.
So while I feel I now know London a bit better there still loads to discover. To use the most clichéd of clichéd London quotes: "when a man is tired of London, he is tired of life; for there is in London all that life can afford," said by Samuel Johnson in 1777 but just as true today.
When when I finished walking the Tube I promised I'd create blog posts around each of them. That clearly did not happen and I think if I'm being honest is unlikely to happen going froward. While I plan to keep exploring London, I think its unlikely I'll be blogging too much about it.
I've got a few other non-London projects I'm working on and find I really don't have the time to devote to both exploring London and then sitting down and writing about it. I hope you've enjoyed the journey and thank you very much for reading.
Finally, for those who'd still like to show your support please consider donating to Bowel Cancer UK.
If you're curious about the routes I took, have a look at the list of walks below:
Full List of Walks:
Walk 1: Waterloo & City line, Waterloo to Bank (1.6 mi; 2.6 km) – Very easy intro to tube walking that takes you into the heart of the City.
Walk 2: Victoria line, Walthamstow Central to Brixton (15.5 mi; 24.9 km) – Easy enough to complete in one day, real mix of different parts of London.
Walk 3: Bakerloo line walk 1 – Harrow & Wealdstone to Kilburn Park (13.8 mi, 22.2 km) – It's possible to walk the Bakerloo line in one go, but I lost data on my phone for 3 hours so couldn't use Google maps, as a result got very lost.
Walk 4: Bakerloo line walk 2 – Kilburn Park to Elephant & Castle (8.7 mi; 14km) – Fortunately, maps worked correctly for the second walk.
Walk 5: Hammersmith & City line – Barking to Hammersmith (20.8 mi; 33.47km) – Poor weather meant this wasn't one of my favourite walks.
Walk 6: Circle line – Hammersmith to Edgware Road (21.4 mi; 34.4km) – The best line to see London's famous tourist attractions. Only problem is everyone else looking at them too.
Walk 7: Jubilee line walk 1 – Stratford to Waterloo (14.32 mi; 23.05 km) – Travelled on the cable for first time on this walk.
Walk 8: Jubilee line walk 2 – Waterloo to Stanmore (17.29 mi; 27.83 km) – Worst of all my walks, rained the entire way.
Walk 9: Former East London line – Former Shoreditch station to New Cross to New Cross Gate to Surrey Quays (10.5 mi; 16.9km) – A very nice walk with Pete Stean and Mandy Southgate. The line was the second shortest tube line, but is now part of the Overground.
Walk 10: Northern Line walk 1 – Morden to Edgware via Charing Cross (23.11 mi; 37.19km) – The furthest south I went on the tube portion of the walks and since I started at Morden, I immediately headed north.
Walk 11: Northern line walk 2 – High Barnet to Kennington via Mill Hill East and Bank (20.36 mi; 32.77 km) – Great walk through the heart of the City and also a side trip to little visited Mill Hill East station.
Walk 12: District line walk 1 – Earls Court to Upminster (25.92 mi; 41.71 km) – An amazing walk that took me the farthest east I'd go until walking TFL Rail.
Walk 13: District line walk 2 – Edgware Road station to Earls Court and then to all other branches (23.76 mi; 38.24 km) – The least straightforward of all my walks given that the District line has so many branches in West London.
Walk 14: Metropolitan line walk 1 – Aldgate to Wembley Park (13.21 mi; 21.26 km) – Pretty standard walk through the City and inner North London.
Walk 15: Metropolitan line walk 2 – Wembley Park to Uxbridge and Harrow-on-the-Hill to Moor Park (19.13 mi; 30.79km) – By pure coincidence I started this walk from Wembley Park the same day as the 2013 Champions League Final final between Borussia Dortmund and Bayern Munich. Because both teams are German, all station announcements were also being given in German. A vision if things had turned out differently in World War 2?
Walk 16: Metropolitan walk 3 – Watford to Moor Park to Amersham to Chesham (23.97 mi; 38.58 km) – This was my favourite solo walk of the entire project. Perfect weather, bucolic scenery and my first chance to walk beyond the M25. This was also the only walk that happened entire outside of London, which is rather strange for a project so rooted in exploring London.
Walk 17: Piccadilly line walk 1 – Hatton Cross around Heathrow to Acton Town (19.7 mi; 31.7 km) – This was by far my strangest walk. I walked to both Heathrow Terminal 4 and Terminal 5. It's a very odd experience to actually walk to an airport terminal, especially at one of the world's busiest airports. It also includes the only station that it's impossible to walk to, Heathrow Terminals 1,2 & 3, although there used to be a cycle path that allowed people to cycle to the airport but its now sadly been turned into a taxi lane.
Walk 18: Piccadilly line walk 2 – Uxbridge to South Kensington (22.19 mi; 35.71 km) – Great walk with lots of classic Charles Holden stations to see.
Walk 19: Piccadilly line walk 3 – South Kensington to Cockfosters (17.76 mi; 28.58 km) – This walked featured the largest number of ghost stations including Brompton Road, Down Street, York Road and most famous of all Aldwych, which warranted a special detour. It also included Charles Holden's classic stations at Arnos Grove, Southgate and the snigger inducing Cockfosters, which is actually a really beautiful station and shares a very similar design as Uxbridge at the other end of the line.
Walk 20: Central line walk 1 – Ealing Broaway to West Ruislip (13.3 mi; 21.4 km) – A pleasant walk with the Hoover Building being a real stand-out.
Walk 21: Central line walk 2 – Epping to Woodford via Hainult (27.97 mi; 45.01 km) – Started outside the M25 and then walked the circle section of the Central line, which includes Roding Valley, the least used station on the London Underground.
Walk 22: Central line walk 3 – Leytonstone to Bank (9.00 mi; 14.84 km) – This was the first of two walks I did with my Dad to finish walking the tube. Great walk that started with the Alfred Hitchcock mosaics at Leytonstone (my Dad is a Hitchcock fan), through the partially re-opend Olympic Park and ending up right where I finished my first walk.
Walk 23: Central line walk 4 – North Acton to Bank – (11.13 mi; 17.91 km) – This walk was also designed to finish at Bank and so as to bring the whole tube portion of the project full circle. While the weather wasn't the best for this one I did have my wife and Dad for company which made the celebratory pint at the end all the better.
Walk 24: Gospel Oak to Barking Overground – (17.03 mi; 27.41 km) – The first of my walks aiming to walk the Overground and DLR. Nice walk through many of London's soon to be gentrified neighbourhoods.
Walk 25: Euston to Watford Junction Overground (22.27 mi; 35.84 km) – This was a great walk that surprisingly was all contained within the M25. Highlight was probably walking through a field full of horses.
Walk 26: New Cross Gate to West Croydon via Crystal Palace Overground – (13.32 mi; 21.44 km) – The real highlight from this walk was Crystal Palace Park, if you've never been you should. The other thing to note about this walk is it took me the furthest south, although it doesn't look that way on the Tube map.
Walk 27: Stratford to Richmond Overground – (22.35 mi; 35.97 km) – A very nice walk through North London that ended in the leafy Richmond.
Walk 28: Lewisham to Bank DLR (9.45 mi; 15.21 km) – A much shorter walk than many of the preceding Overground ones, but crammed in a lot including Greenwich, Canary Wharf, Docklands and the City.
Walk 29: Overground Circle (Kentish Town West to Kentish Town West; 34.48 mi; 55.49km) – This was the longest walk of the entire project, taking nearly 11 hours to complete. And while I'd previously walked large sections of the circle, it was the walk that covered the most ground in South London.
Walk 30: Tower Gateway to Beckton DLR – (10.77 mi; 17.33 km) – Not a hugely interesting walk but I did get to finally see Balfron Tower and found where the Traffic Light Tree has been moved to (in front of Billingsgate Fish market)
Walk 31: Stratford International to Woolwich Arsenal DLR – (8.07 mi; 12.99 km) – Ironically, Stratford International has no international services, but if you follow the DLR you'll eventually end up at City Airport that does actually offer international flights. Besides including the second airport I've walked to in London, other highlights included Thames Barrier Park and the Woolwich ferry, which has to be one of the most ridiculous features of London's transportation system. A bridge or tunnel would make much more sense.
Walk 32: Beckton to Stratford International DLR (8.01 mi; 12.89 km) – Probably the least interesting walk of the whole project. Thankfully it was one of the shortest.
Walk 33: Stratford to Lewisham DLR (8.93 mi; 14.37 km) – A decent walk that included a visit to Pudding Mill Lane the newest station on the map.
Walk 34: Cable Car (6.22 mi; 10.01km) – Given that the Cable car is only 0.62 mi (1km) long, this walk the had the greatest divergence from the service's route. Walked it via Woolwich foot tunnel (a first) and included some of the few remaining industrial sections of London, that are sure to be redeveloped at some point in the not too distance future. Also had the pleasure of being accompanied by @avail, @Ianfurey1 and @ldnative.
Walk 35: Cheshunt to Enfield to Liverpool Street Overground (23.28; 37.47 km) – My second walk to start outside the M25. Nice weather made for a rather pleasant if unremarkable walk.
Walk 36: TFL Rail (24.68 mi; 39.72) – For those that don't know, TFL Rail will turn into Crossrail in a few years time. So I've got a bit of leg up when that opens. This walk took me beyond the M25, past zone 9 to the dreaded Special Fares apply zone and the farthest east I've ever walked.
Walk 37: Liverpool Street to Chingford Overground (12.86; 20.7 km) – This walk was quite interesting and varied and included rapidly gentrifying parts of East London, totally empty parks and fields and a cycle path through the middle of an industrial estate.
Walk 38: Romford to Upminster Overground (3.98 mi; 6.41 km) – You'd think my second shortest walk all the way out in zone 6 would have little to see. And you'd be partially correct. Highlights included the least used station on the entire Tube map (Emerson Park), the Upminster Windmill and a walk past the only station with a Swastika in its design.
Walk 39: Woolwich to Bank DLR (12.45 mi; 20.04 km) – My final walk, like the vast majority of my walks, was done solo. While some people think I must get lonely, the truth is just the opposite. Walking alone allows my mind to wander, me to set my own pace and finally indulge in detours other people might not think are interesting. For example, on this walk I made detours to both the Thames Barrier Park and the wonderfully bizarre Trinity Buoy Wharf. That's not to say I haven't immensely enjoyed the company of those who've come on walks with me as part of this project, it's been great to share the experience with others. However, at the end of the day I think it was fitting in many ways that the final walk was a solo one and that it ended where my first walk ended, at Bank. Plus, wife did meet me at the end for another celebratory pint!
For most posts related to the Tube Challenge click here.
If you've got this far, thanks very much for reading. I hope you take this as an inspiration to go out and explore London in your own way. If you have any questions or comments please just leave them below and I'll do my best to respond.