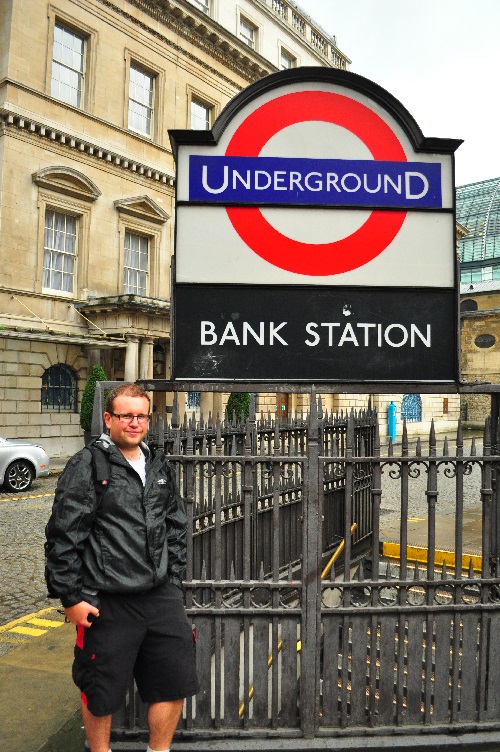 At 2:19 pm today (August 24th, 2013) I completed my final walk of the London Underground, walking from North Acton to Bank with my wife and my father. As far as I know I am now the first Canadian to have walked the entire Tube above ground and will claim that title unless someone can prove otherwise.
I've also manged to raise £1,145.07 for Bowel Cancer UK, which while a great start is still far below my initial goal of £16,013. As I continue to post more detailed updates of my walks I'll continue to ask for donations to support this very worthy cause.
This completes a journey that started just over a year ago (August 19th, 2012) with a short half hour long walk along the Waterloo & City Line.
Since then I've walked beyond the borders of London and the M25 to the mythical Zone 9. I've walked east, west, north but only rarely south. I've walked through some rain, but have on the whole had incredible luck with the weather. I've mostly walked it alone, but finished on a high-note completing the last two legs with my father and the last with my wife as well.
It's been a journey that's taken up a huge portion of my life to the extent that it still feels a little surreal that it's all over. During the same time period I also manged to visit all 270 tube stations separately, just because the Tube is really cool and it would have been a shame not to visit the stations I was walking past.
Over the next 6 months I'll post detailed accounts of all my walks (and station visits), but in the meantime I thought I'd post just a few quick stats about what I've done.
Total distance walked: 394.3 miles (634.56 km) – almost the distance from London to Edinburgh
Time spent walking: 151 hours 16 minutes – almost 1 full week
Number of lines walked: 12 (11 current lines + former East London Line)
Total number of walks: 23
Shortest walk: Waterloo & City line: Waterloo to Bank – 1.6 miles (2.6 km)
Longest walk: Central line walk #3: Epping to Leytonstone to Woodford via Hainault – 27.97 miles (45.01 km)
Average walking speed: 2.61 miles/hr
Average walk length: 17.14 miles (27.58 km)
Average walk time: 6 hours 34 minutes
Unique stations visited: 270
Total stations visited: 381 (multiple vists to stations where more than 1 line goes through them)
Favourite walk (besides last ones): Metropolitan Line day 3 (Watford to Moor Park to Amersham and Chesham) – great weather & scenery.
Least favourite walk: Jubilee line day 2 (Waterloo to Stanmore) – constant rain for several hours while walking through suburban London.
Thanks to everyone who has supported me during this journey. I hope you stick around to read the full account. If you'd like to know any other stats just ask in the comments section below: